March 15th, 2020 by Al C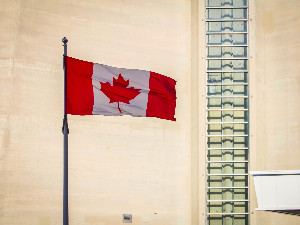 According to The Canadian Bureau for International Education, 572,415 international students studied in Canada in 2018. This represents a 154% increase in international students in Canada since 2010. Canada is now the 4th most popular destination for international students, behind the USA, the UK, and China.
Why is Canada such a popular destination for international students?
The high quality of the Canadian education system
Canada is one of the leading first-world countries known for its economic abundance and high standard of living. Because of this, their educational system gets great reviews and that's what international students are looking for. Canadian schools are equipped with the latest equipment and with proper resources required to get the best educational experience possible.
Canada has a reputation as a tolerant and non-discriminatory society
Canada is best known for being one of the most tolerant countries when it comes to skin color and nationality. This makes it a prime destination for international students who wish to avoid the risk of encountering racism or xenophobia.
Canada has a reputation as a safe country
The crime rate is minimal in Canada because of its strict security and adherence to the law. Canadians are also naturally peace and law-abiding citizens, making it a great country to study in. No need to worry about distractions and potential safety hazards because its authorities are working round the clock to provide and maintain a safe and secure place conducive for studying.
Talking about stats…
96% of international students recommend Canada as a study destination, while 60% of international students say that they plan to apply for permanent residence in Canada. This is one of the top reasons why they want to get education loans for international students in the country.
Who are the international students in Canada?
In terms of student numbers, the nationalities with the largest representation of students in Canada are China (with around 28% of the market) and India (with around 25% of the market). US students represent only around 3% of all international students in Canada.
Where are the international students in Canada studying?
Across Canada, the province with the largest number of international students is Ontario (48% of international students) with the next most populous provinces being British Columbia (24%) and Quebec (12%).
Funding for International Students in Canada
IEFA.org can connect international students with education loan providers where they can access loans without cosigners, collateral, or credit history. These are available to students from 190+ countries pursuing degrees in any academic field.
International student loans are made available to international and DACA students studying in the USA and Canada. Undergraduate and graduate students within two years of graduating are eligible.
These loans can be used for past, current, and future semesters, and you can use the funds to pay for expenses including tuition, accommodation, food, insurance, and books.
The Benefits of an International Student Loan in Canada
For this type of loan, you don't need a cosigner, collateral, or credit history
You can get an education loan with a fixed interest rate from $2,001 to $50,000 – making budgeting easier and stress-free
Students from over 190 countries can apply
10-year loans with no prepayment penalties
Interest-only payment period during school and 6-months post-graduation
Undergraduate and graduate students within two years of graduating are eligible
Loans are available to students attending one of the 300+ schools in the USA and Canada
How does the loan process work?
Check to see if your school and program are eligible.
Complete your application.
Receive a conditional offer after submitting your application.
Upload your requested documents and complete any further required paperwork.
Receive a final approval after all of your uploaded documents are verified.
Your school certifies your enrollment status with the loan provider. Once that is done, your funding is disbursed directly to your school on an agreed upon date.
How much will the loan cost?
Please note that every case is different, but here is an example for informative use only – this is not a guarantee of costs for your individual circumstances.
An international (non-US, non-Canadian) student studying a Master's-level program borrowing $10,000 USD would expect to repay $100.54 per month during their studies and for 6 months after graduation, and then $141.62 per month thereafter.
Find out more and apply for your International Student Loan in Canada today.
More on Loans That Do Not Require a Cosigner in the US and Canada
10 things you need to know about international student loans
---
October 10th, 2019 by Al C

The world we are currently living in is a society that thrives and depends heavily on computers and technology so this 2019-2020.

Gone are the days when we can function at our best without all the needed technological complexities. Now, we not only need the right equipment and computers but also the right minds to work on today's tech-driven world.

That's where Indeema comes in.

Indeema is a software company that develops business solutions for its clients using the latest tech. Aside from that, they also believe that having their own contribution to the industry can be best defined by offering scholarships.

Well, that's just what they did as our friends at Indeema offers a scholarship program worth $1,000 for computer science students and to those who are studying STEM-related courses.

Indeema believes that investing in bright minds and aspiring talents, as well as sharing their resources and knowledge to the right people is one of the best things they can do for the upliftment of society.
Who is eligible for the STEM and Computer Science Scholarship?
To assist high school seniors or freshmen students in the USA, Indeema is offering the $1,000 Scholarship Program for enrolling at a university/ college for:
Computer science (CS)
Computer engineering (CE)
Related science, technology, engineering, math (STEM) programs.
The company believes that it is in supporting students who are following a path towards computer and tech literacy is the future. Thus, those who are interested in enrolling in computer science, computer engineering, as well as other STEM-related programs, specifically in science, technology, engineering, and mathematics, are eligible to apply for of this scholarship fund.
What about Indeema?
Indeema is driven by their passion to not only cater quality tech business solutions to their clients but also positively contribute to the overall welfare of the industry. This is why the company's mission is driving progress with tech skills and science.
The company also lead educational courses and collaborate with research institutions in Lviv and Austria. Furthermore, Indeema also believes that it is important for them to facilitate the development of fresh minds in the IT industry so that it will progress for the betterment of everyone.
Because of this, they decided to finally grant educational scholarships to students in the US who are interested in pursuing careers in computer science and other STEM courses. This is also a strategic move for the company as it is where their main office is located.
Indeema knows that starting can be hard. That's why they want to create a stepping stone and encourage IT enthusiasts to build their career in this innovative landscape.
Not only will this create brighter minds in the tech industry, but this will also make it easier for them to leverage on their careers, and in the process, help Indeema and the entire tech sector improve.
Any wonderful product or disruptive innovation is done by people like you or like Indeema — passionate dream chasers.
Study hard and work smart, and there will be nothing you can't achieve!
Who is eligible for the $1,000-STEM and Computer Science Scholarship?
High School Graduates
High school graduates who graduated from a public school are eligible. However, those who have graduated from a private school are also welcome as long as the school they've graduated in is accredited.
STEM Course
Students who are going to pursue a degree and career in computer science, computer engineering, and other STEM-related courses are eligible to apply for the scholarship.
Enrolled College Students
Students who are already enrolled or have been accepted for enrollment for a four-year course at any accredited college and university in the US are eligible for the scholarship.
High SAT Rating
Students who have a high SAT score are eligible. Specifically speaking, only those who have SAT scores of 1350/1600 and above. Also, those that have a cumulative GPA of 3.0 as well as a 27 or higher composite ACT score are eligible for the scholarship.
Interested and Passionate
If you are deeply passionate and interested in computer science, computer engineering, and technology, then you're a great fit for the scholarship.
If you are interested you can find out more below. You must apply for the $1,000 Scholarship Program by March 1st.
Read more from our blog.
This award is brought to you by IEFA.org and all responsibility for the program lies with the provider – in this case, Indeema. For more information see the listing on IEFA.org and contact the provider directly.
---
October 24th, 2018 by Juncal Caballero

University of Arizona
Deadline: April 1st
Looking to study at the University of Arizona (UA) but can't afford the tuition? This is your chance! The UA is offering Tuition Awards to international students that go from $4,000 to $24,000 per academic year.
The University of Arizona is one of the United States' most respected public research institutions. The UA provides more than a world-class education, they help students develop the necessary skills of discovery, research, and creativity and that's why you can't miss this opportunity to study there!
What's the scholarship about?
In recognition for students who exhibit an outstanding academic performance, the University of Arizona offers the International Tuition Award which offers $4,000 – $24,000 per academic year for freshman, and $5,000 per academic year for transfer students.
Eligibility:
International applicants whose primary language is not English, or who attended school in a non-English speaking country, must prove English proficiency.

Must verify your lawful presence as described under Arizona's Proposition 300.

Semesters without lawful presence verified will be lost and counted against the scholarship's total eight semesters.

Awards are for undergraduate studies only.

In addition to the criteria above, submit a complete application and all required documents.

Scholarship recipients must accept their award by paying their enrollment fee by May 1 for freshmen and by June 1 for transfer students.

Sponsored students are not eligible. However, if sponsorship is for years two – four only, a one time award may be applied per the charts above.

Non-degree seeking, exchange, and conditionally admitted students are not eligible.
If you meet the criteria, be sure you submit your application on time for the next fall semester!
Get more details on the University of Arizona International Tuition Award and how to apply.
---
July 6th, 2018 by Juncal Caballero

Westbon
Deadline: October, 15
Westbon is the first lending platform for international students in the U.S. Based in Chicago, they specialize in providing auto loans and personal loans for their customers, who have always been an underserved group due to their lack of a Social Security Number (SSN) and credit history.
Westbon is dedicated to assisting international students in their pursuit to study in the United States and is always amazed by how vibrant and talented the international student community is.
To help international students further pursue their dreams in the U.S., Westbon has established a scholarship program for international students who are on F1 Visa in the United States. Regardless of your fields of study, Westbon is happy to offer the assistance you need for your college studies in the United States.
Eligibility
To qualify, you must be:
International students on F1 Visa with valid I20

Undergrad, master students all welcomed to apply

All nationalities and majors are welcomed to apply

Minimum GPA 2.70 out of 4.00 or equivalent

Online application form

L20 & Transcript

Supporting documents if necessary
What are they looking for?
Applicants who have the excellent achievement and great potential in academic, extracurricular activities or social fields.
Academic
Applicants who excel in their study with demonstrated academic performance.

Please provide your most recent transcript. Supporting documents like recommendation letters from your professors or supervisors are recommended but not required.
Adventurous/ Creative
Enthusiastic travelers who have seen and witnessed the true beauty of the world.

Talented artists and designers who have an amazing, stunning portfolio.

Adventurers who have an amazing story to tell.

It all depends on your experience and endeavors.
Social Impact/ Leadership/ Entrepreneurship
Candidates who have entrepreneurship spirit, a significant social impact, or the ability to influence others in a positive way.

Candidates who have shown leadership in extracurricular activities or won recognition within the international student organization and communities.
All undergraduate and master program students are welcome to apply. You can find further details here.
---
March 23rd, 2018 by Juncal Caballero

Full Sail University

Deadline: Applications must be submitted prior to the desired start date
Full Sail University is an American private, for-profit university located in Florida. Full Sail is dedicated to helping creative students follow their dreams in the entertainment and media industry. With students from over 65 countries, 110 world-class recording studios, and many spacious film soundstages, Full Sail's innovative and accelerated style of education provides a unique real-world education in film, music, animation, video games and recording arts.
Full Sail University is offering students the opportunity to  apply for the Full Sail Global Achievement Scholarship, which is designed to encourage and develop future international entertainment and media professionals throughout the world.
What is it?
Through the Global Achievement Scholarship, eligible participants may receive up to $5,000 toward the tuition of their Full Sail campus degree program. If you are interested in attending Full Sail University and applying to this scholarship find more information about it here.
Eligibility
To be eligible you must:
Be a non-US citizen or non-permanent resident, as defined by Full Sail University.

Applicants must have applied for one of the following immersive campus degree programs: Computer Animation, Creative Writing, Digital Arts & Design, Entertainment Business, Film, Game Art, Media Communication, Music Business, Recording Arts, Show Production, or Sports Marketing & Media.
How to enter
Complete and submit the Global Achievement application, and an original 250-word essay on "How My Full Sail Education Will Help Me Achieve My Career Dream" prior to the first day of class.

The Global Achievement Scholarship application must be submitted to the Full Sail Scholarship Committee prior to the desired start date.

To apply for this scholarship, please contact your admissions representative.
Get more details on this scholarship and how to apply.
---
October 18th, 2017 by Juncal Caballero

East Tennessee State University

Deadline: January 2nd
If you are a new international student at East Tennessee State University (ETSU) or if you are planning to apply to ETSU, we have great news for you! The International Students Academic Merit Scholarship is open to new international students seeking a graduate or undergraduate degree.
What is it about?
The scholarship covers 50 percent of total in and out-of-state tuition and maintenance fees only. No additional fees or costs are covered (recipients will be required to pay other fees such as program fees, course fees, housing costs, and medical insurance costs).
Students must apply for admission to ETSU before applying for the scholarship. Once an admissions application is submitted, the student may then apply for the scholarship. A student's scholarship application will be reviewed once the student is admitted to the university.
The scholarship is available for:
Eight semesters for undergraduate recipients

Five semesters for recipients seeking a master's degree, or commensurate with the length of the program

Eight semesters for doctoral students, or commensurate with the length of the program

Scholarship can be used for summer semesters if taking on-grounds courses

Scholarship may not be used for the winter term
To be eligible, students must:
Apply for admission to ETSU before they can apply for the scholarship

Have or plan to have an F-1 or J-1 student visa

Have a record of academic achievement

Fill out the scholarship application form
Also important to know:
Recipients must maintain full-time status.

An applicant must have a 3.0 GPA (high school, or college GPA, depending on if freshman, transfer, or graduate applicant).

Undergraduate recipients must maintain a 2.75 semester grade point average in order to continue receiving the scholarship. Graduate recipients must maintain a 3.0 semester GPA.

Recipients continuing from a bachelor's to a master's degree program must reapply for the scholarship.
Time is running out so if you are interested, be sure to submit all your information by January 2nd. Applications received after the deadline will not be reviewed. You can find further details here.
---
April 27th, 2017 by Felicity Bradstock
One of the most difficult parts of being an international student in the US is finding the funds to do so. Luckily, there are numerous outlets where international students can look, including home country funding, family funding, scholarships and even loans. However, it's important to understand that as your time in the US grows, so will your desire to make purchases beyond resident hall decorations, classroom supplies and the occasional night out. International students who plan on studying in the US for a few years often decide to make a larger purchase like a car. Before being able to make this type of purchase you will need to have established credit; Because of this, it's important to start building credit as soon as possible.
One great way to establish credit is by obtaining a credit card. Having a credit card and making frequent, small purchases then immediately paying off the balance can help build credit as an international student in the US. However, without a social security number or established credit, new international students may find it difficult to open a credit card.
One option that you'll want to explore is SelfScore. SelfScore was established by former international students, for international students. They offer the only MasterCard designed specifically for international students, which means you do not need a social security number to apply and you can count on them always offering you fair credit.
SelfScore offers two types of MasterCard: The Classic and The Achieve. With both of these cards you can enjoy:
No Annual Fee
No Deposit
No Social Security Number Required
Fraud Protection
No Foreign Transaction Fee
First Late Fee Waived
Accepted Everywhere MasterCard is Accepted
SelfScore prides themselve on "opening the door of the US financial system for international students." See if a SelfScore MasterCard can help you establish your credit during your time in the US.
---
July 2nd, 2015 by Jonathan Frankel
The world of international student loans can be confusing, especially if you've never obtained a loan and English is not your first language. Because of this, we've created a list of the top international student loan terms that you need to know and understand before you start the hunt for a loan.
Cosigner: A cosigner is someone who is joining the loan application with you. If you're unable to repay your loan (yes, you must pay back what you've borrowed) the co-signer then takes over your repayment responsibility. To be a cosigner on your international student loan, they must be a US citizen or resident who has lived inside the US for the past two years and has good credit history. The better your cosigner's credit history, the lower your APR will be.
Repayment Period: This refers to when you must start the re-paying of your loan and how often- something that will vary from one lender to the next. Check these terms, and know exactly when you will need to start paying back what you borrowed.
Interest Rate: An interest rate is the percentage of the amount borrowed that the lender can charge interest on to the borrower. The higher the interest rate, the more you must pay back in addition to what you borrowed. The interest rate will change depend on the market and can come in one of two categories: fixed and variable. A fixed interest rate is a rate that will remain the same from the time you agree to take out the loan to the last payment you make. A variable interest rate will fluctuate over time depending on the market, and can be more risky, depending on the market.
Annual Percentage Rate (APR): While looking at terms based around repayment, let's discuss exactly what an APR is, and how it can affect what you must pay back to the lender. When comparing loans, you will want to compare the APR and look for the lowest rate possible- the lower the APR, the less you pay. One key item to keep in mind: the APR and interest rate are not the same. The APR will help give you a more accurate look at the total cost of the loan including the interest and fees. Don't let a low interest rate trick you into thinking you're getting a deal- also check the APR.
Credit score: A credit score is based upon credit history and given in a credit report which reflects a score between 300 and 850. Your cosigner's credit score will be evaluated when you apply for a loan- the higher the credit score, the better your chance will be of getting approved and being able to receive a low APR.
If you would like to receive an international student loan, start comparing lenders that work with your school.
---
July 21st, 2014 by Jennifer Frankel
International Student Insurance just announced their Summer Fun Competition where you have two chances to win $500! Here's how you can win one of their $500 prizes (or, submit to both and you could win $1,000!).
There are two ways to win:
Share their US Healthcare System Video on your Facebook or Twitter pages OR
Share your experience buying their insurance policy.
From there, complete the application form right online (if you are submitting to both entries, you will need to complete the form twice) and stay tuned to see if you are the winner. Check out the Summer Fun Competition details and application here:
http://www.internationalstudentinsurance.com/summer-fun-competition/
Winners will be randomly selected and will be announced in September. Good luck to you all!
---
July 11th, 2014 by Jennifer Frankel
Question #2
"What's your favorite page on International Student Loan? Share it with us!"
Simply answer the second question on Facebook, Twitter, or our blog, and you'll be entered to win $100 gift card! Check out International Student Loan to see what peaks your interest. Is it the videos? Maybe the infographic? Or maybe it's a resource page? Be sure to comment below on our blog, or share it on our Facebook or Twitter page to enter to win.
Submit your answer before 3pm EST on Wednesday, July 16th for your chance to win. Our second winner will be announced next Thursday, July 17th, so stay tuned!
If you are in need of cash now, win $100 on our Financial Aid Fun Contest, put on in partnership with InternationalStudentLoan.com and InternationalStudent.com. Be sure to check back next week where a new question will be announced on Friday, July 18th. Good luck on financing your education!
*Winner announced:
The winner for our second question has just been announced, congrats to Sunshine Darling who just won $100 gift card! Sunshine told us that her favorite page was Making a Repayment Plan- and Sticking to it on InternationalStudentLoan.com. Congratulations Sunshine!
---