December 22nd, 2020 by IEFA
Financial assistance for International Undergraduate Students
This article is primarily for higher education students with a non-immigrant student visa (F-1, J-1, etc.). Information for permanent residents of the United States is also included below. See the International Student Loan Terms Dictionary if you are unfamiliar with any terms used in this article. The Institute for International Education (IIE) reports that around 80 per cent of foreign students rely primarily on personal savings and family to cover the cost of their education in the USA. Very little federal student aid is available to international students. U.S. institutions generally offer little, if any, discount on school fees, although both private and public institutions may waive application fees in certain situations. In fact, foreign students tend to pay higher fees than domestic students – this is usually the case in the US, Canada and most other countries.
Calculating your cost of attendance
"Cost of attendance" is the calculation of the total cost of attending any given institution, and is used to determine the level of financial need of the student. It includes tuition, compulsory fees, room, board and an estimated cost of books and living expenses for students at each school or college.
If you will be living in private, off-campus housing, you should also expect to pay for electricity, heating, water and other utility costs.
Location will have a significant impact on your expenses due to different living costs around the country. A number of online calculators are available that show the cost of living in different locations. These can help you compare costs between cities. You should create a budget to keep track of the expenses you already know about, and talk to your university to find dout about any available support or fee waivers.
Institutional aid
Many public and private universities provide financial incentives for students. At menay, the majority of the support available to foreign students is primarily for graduate level studies, such as assistantships and fellowships.
Because it is rare for US colleges to offer support for international undergraduate students, scholarships can be very competitive when they are available. Both private and public institutions may waive application fees in certain situations, so consult your financial aid office advisor to take advantage of anyopportunities they offer.
Merit-based scholarships are awarded on the basis of your skills, talents and abilities. Your chosen university may have scholarships to offer based on your academic record, artistic ability, music, or sports. These scholarships are very competitive, so to be considered, you will need to demonstrate exceptional capacity in the specific area.
Need-based scholarships are awarded on the basis of a student's financial situation. Students who can demonstrate a need for support may be eligible.
Specific academic departments within the university may have funds set aside for their international students with exceptional prospects.
Consult your university financial aid office and/or your department of study to see if there are any special funding opportunities that they offer.
Scholarships and grants
Many local scholarships are only available to U.S. citizens and permanent residents. However, there are free scholarship databases as well as private, corporate, non-profit and government scholarship funds that do help foreign students. Some scholarship databases charge a fee to users and other databases provide their services at no cost. In general, the same information is available from both types of database services, so no fee is required. Ask in advance, and choose a free database service.
Although they are rare, there have been some dishonest scholarships in the past: do not send money, bank account numbers or credit card numbers to anyone that promises a scholarship in return. If you are at all concerned about any scholarship source, consult the admissions office, financial aid office or international student office at the university to which you apply.
Web sites with other scholarship resources
There are specialist websites that collect information on financial aid and scholarships for study abroad.
Both IEFA.org and InternationalScholarships.com are free to use for foreign students to search for grant programs to cover tuition costs, room and board and living expenses at an american school – or for international students around the world.
Private Student Loans
International student loans are available to individuals who meet certain criteria. In many cases you will require a cosigner (someone who guarantees the laon and is responsible for making the repayments if you are unable to repay the loan for any reason). Student loans without a cosigner are available at certain schools and for eligible students.
Interest-free Student Loans
The Organization of American States has a scheme of interest-free loans to students from Latin American and Caribbean countries. The program is called The Rowe Fund. For more information please see https://www.oas.org/en/rowefund/.
Family and personal funds
According to the Institute of International Education, the vast majority of international students rely heavily on their own personal and family sources of funding.
Employment
Non-immigrant students are not eligible to be employed in federal work-study positions, and the regulations that cover the F, M, and J non-immigrant categories strictly limit both the type and amount of work that students can do while they are in the United States.
Working without authorisation in the United States is a very serious matter and is considered to be a violation of your immigration status.
The rules that deal with student employment for those with a visa are complex – you should discuss any issues about eligibility for employment with your International Student Services Advisor on campus before starting any work.
Working on or off campus, even if it is allowed under the conditions of your student visa, cannot be your sole source of funding. Most jobs will provide only enough money to cover some of your personal expenses – or additional "fun money".
Taxation
Many of the financial suport for international students are considered taxable. In some cases, you may be exempt from paying taxes on certain forms of financial assistance. Any exemptions depend on the type of visa you are on, the duration of your stay in the United States and the type or types of financial aid you have been awarded.
If your home country is in a "tax treaty" with the United States, you may be able to claim a full refund of any taxes that is withheld from your financial aid. To do this you must file a non-resident tax return (1040NR) including a letter stating that your home country has a tax treaty with the United States. Consult your International Student Advisor, Financial Aid Office or on-campus tax office to learn more.
Foreign students are more likely to be exempt from tax if the financial assistance they recieve is designated as an educational award and not work-related.
Information for permanent residents
US citizens and nationals, lawful permanent residents, refugees and asylum seekers are eligible for federal financial assistance in the form of federal student loans, grants and work-study opportunities.
Students in the non-immigrant visa category are generally not eligible for such aid.
If you are a permanent resident, you can apply for federal financial assistance by completing a Free Application for Federal Student Aid (FAFSA).
Other Interesting Posts:
---
December 15th, 2020 by IEFA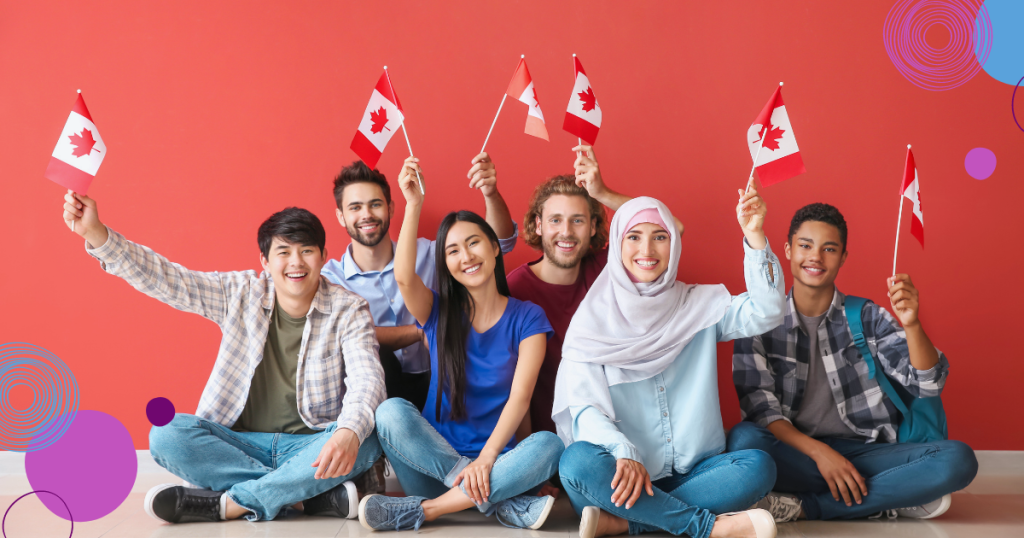 According to The Canadian Bureau for International Education, 642,480 international students studied in Canada in 2019. This represents a 185% increase since 2010. Canada is the 4th most popular destination for international students, behind the USA, the UK, and China.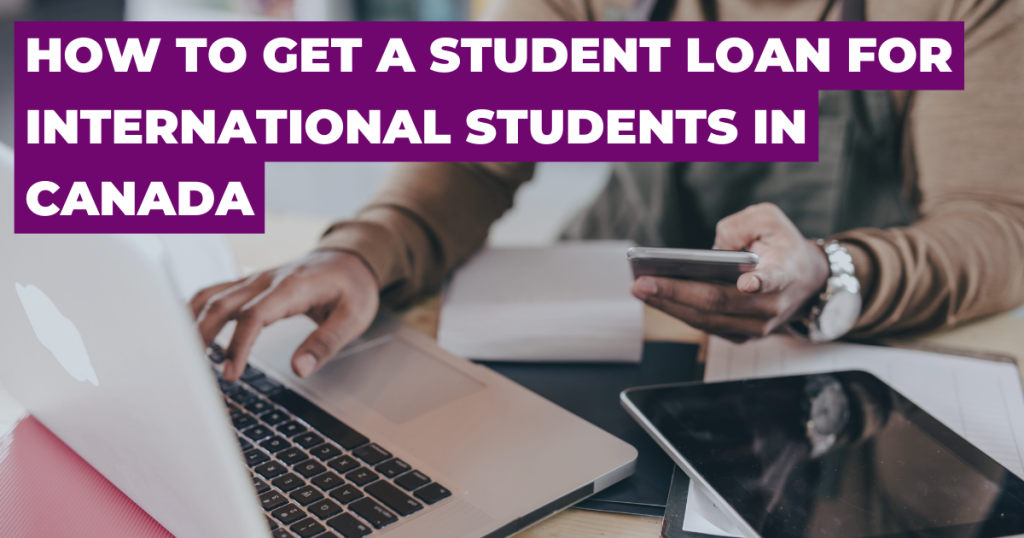 Why is Canada such a popular destination for international students?
The high quality of the Canadian education system
Canada is one of the leading first-world countries known for its academic success, its economic abundance and high standard of living. Because of this, their educational system gets great reviews and that's what international students are looking for. Canadian schools are equipped with the latest equipment and with proper resources required to get the best educational experience possible.
Canada has a reputation as a tolerant and non-discriminatory society
Canada is best known for being one of the most tolerant countries when it comes to skin color and nationality. This makes it a prime destination for international students who wish to avoid the risk of encountering racism or xenophobia.
Canada has a reputation as a safe country
The crime rate is minimal in Canada because of its strict security and adherence to the law. Canadians are also naturally peace and law-abiding citizens, making it a great country to study in. No need to worry about distractions and potential safety hazards because its authorities are working round the clock to provide and maintain a safe and secure place conducive for studying.
Talking about stats…
96% of international students recommend Canada as a study destination, while 60% say that they plan to apply for permanent residence in Canada. This is one of the top reasons why they want to apply for a student loan in Canada over any other country.
Who are the international students in Canada?
In terms of student numbers, the nationalities with the largest representation of students in Canada are China (with around 22% of the market) and India (with around 34% of the market). US students represent only around 2% of all international students in Canada.
Where are the international students studying?
Across Canada, the province with the largest number of international students is Ontario (48% of international students) with the next most populous provinces being British Columbia (23%) and Quebec (14%).
Funding for International Students in Canada
IEFA.org can connect students with education loan providers where they can access private loans without cosigners, collateral, or credit history. These education loans are available to students from 190+ countries pursuing degrees in any academic field. They are perfect to help cover the cost of your studies in Canada.
International student loans are made available to international and DACA students studying in the USA and Canada. Undergraduate and graduate students within two years of graduating are eligible.
These loans can be used for past, current, and future semesters, and you can use the funds to pay for expenses including tuition fees, living expenses, accommodation, food, insurance, and books.
The Benefits of an International Student Loan in Canada
For this type of loan, you don't need a cosigner, collateral, or credit history
You can apply for an education loan with a fixed interest rate from $2,001 to $50,000 – making budgeting easier and stress-free Students from over 190 countries can apply
10-year loans with no prepayment penalties
Interest-only payment period during school and 6-months post-graduation
Undergraduate and graduate students within two years of graduating are eligible
Loans are available to students attending one of the 300+ schools in the USA and Canada

How does the loan process work?
Check to see if your school and program are eligible.
Complete your application.
Receive a conditional offer after submitting your application.
Upload your requested documents and complete any further required paperwork.
Receive a final approval after all of your uploaded documents are verified.
Your school certifies your enrollment status with the loan provider. Once that is done, your funding is disbursed directly to your school on an agreed upon date.
How much will the loan cost?
Please note that the total cost in every case is different, but here is an example for informative use only – this is not a guarantee of costs for your individual circumstances.
An international (non-US, non-Canadian) student studying a Master's-level program borrowing $10,000 USD would expect to repay $100.54 per month during their studies and for 6 months after their expected graduation date, and then $141.62 per month thereafter.
Find out more and apply for your International Student Loan in Canada today.
More on Loans That Do Not Require a Cosigner in the US and Canada
10 things you need to know about international student loans
Canada: Scholarships for International Students
Other useful posts:
---
December 1st, 2020 by IEFA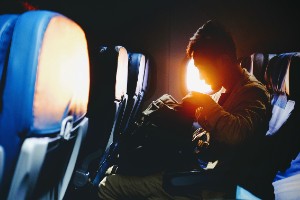 The latest data covering international students in the USA and American students studying abroad has been released – here are the highlights:
International Students in the US:

Over 1 million international students studied in the US in 2019/20, including those taking an academic program and those on OPT (Optional Practical Training).
That's over 5% of the total number of enrolled students, but it is almost 2% (or 20,000 students) lower than the previous period. Early indications suggest that due to the pandemic international student enrolment in 2020 could be down by a further 16%.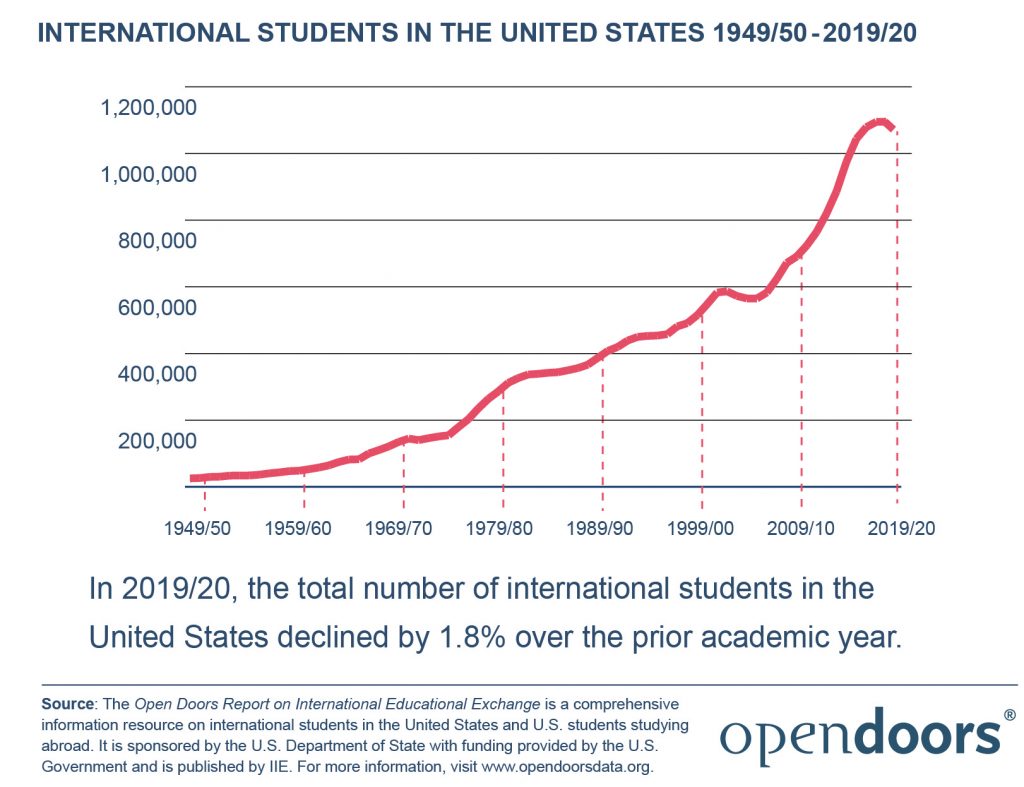 American Students Abroad:

Almost 350,000 US students studied abroad for academic credit in the 2018/19 academic year (the latest data available).
That's almost 2% higher than the previous year – continuing the trend which has only been increasing for over 10 consecutive years.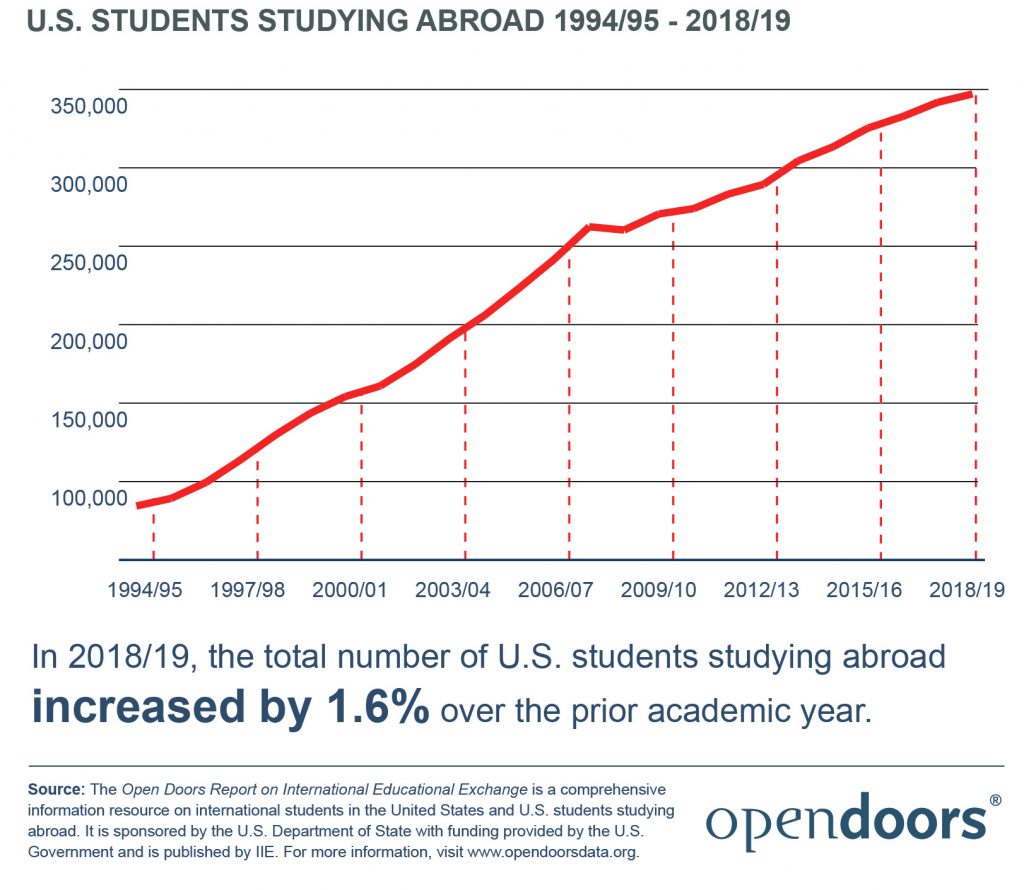 Demographics:
Incoming students to the US came mainly from China (35%) and India (18%).
The top 10 countries of origin for incoming students were:
China
India
South Korea
Saudi Arabia
Canada
Vietnam
Taiwan
Japan
Brazil
Mexico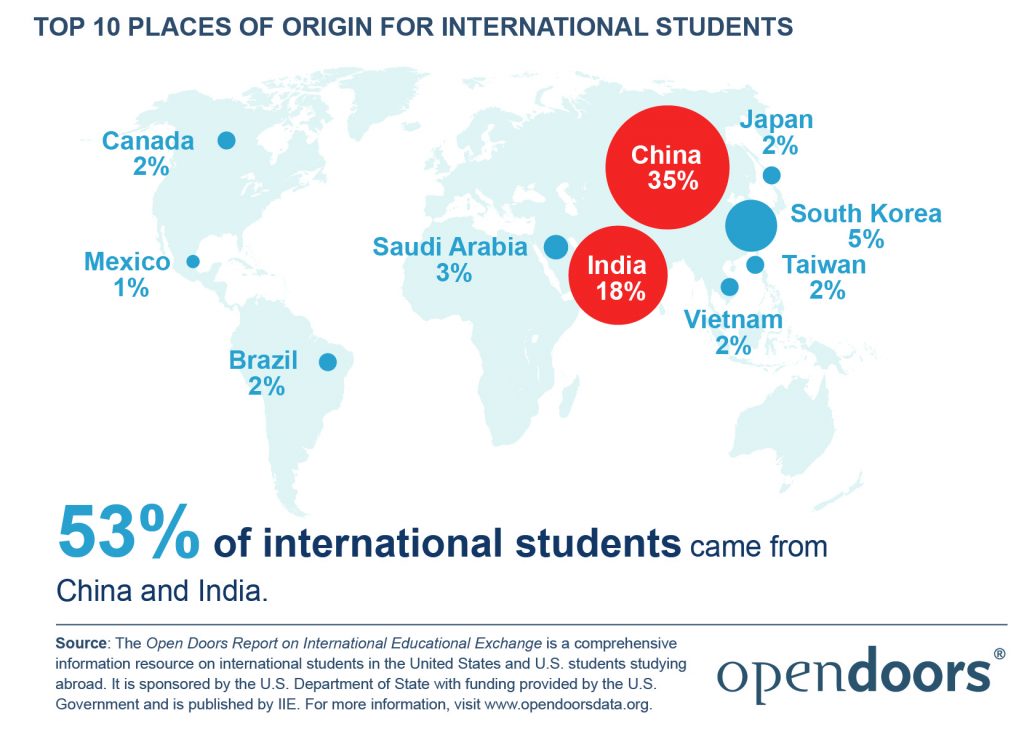 California was the individual state that hosted the most international students in total (with over 160,000).
The single most popular institution in the US for international students was New York University – hosting over 20,000 students from around the world!
Outgoing US students' top destinations were the UK (11%), Italy (11%) and Spain (10%).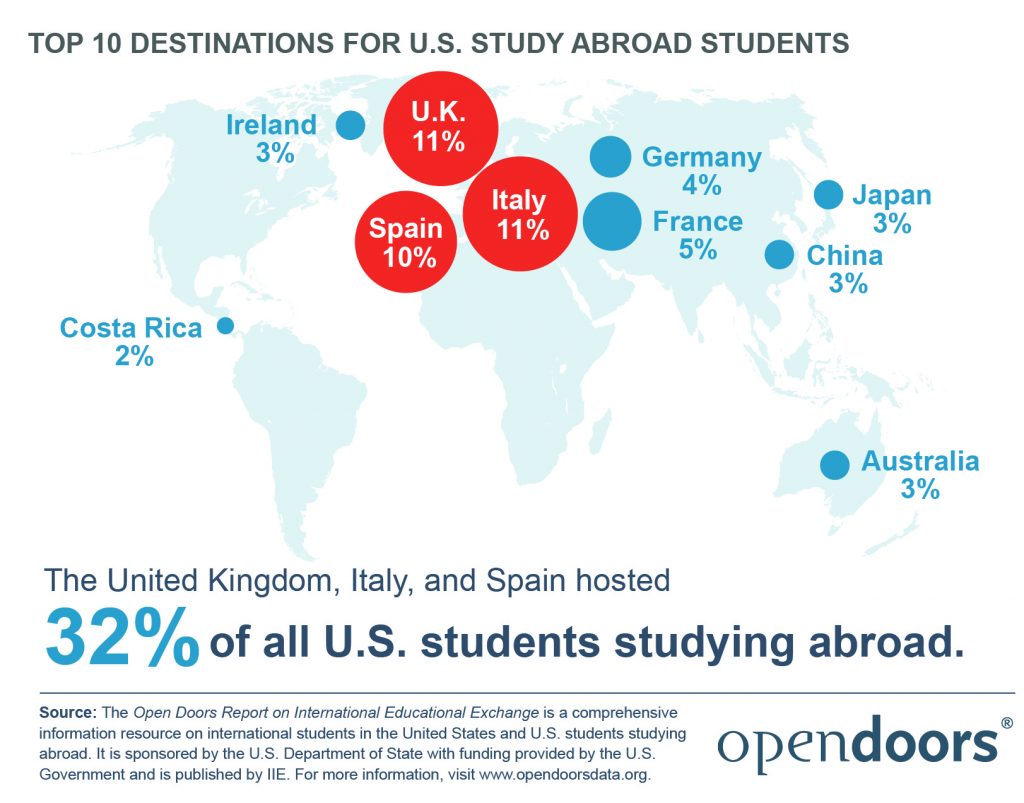 The top 10 destination countries for US study abroad students were:
United Kingdom
Italy
Spain
France
Germany
Ireland
Australia
China
Japan
Costa Rica
For more on this data please visit https://opendoorsdata.org/annual-release/
If you're studying abroad you may be able to fund part of your education with a loan:

Read more on the blog.
Or search our scholarships listings.
---