February 18th, 2022 by Al C
We are excited to launch the International Student Community! It's the place where ambitious students hang out, ask questions and empower each other to pursue the best international education.
Click here to grab your invite to join the community.
Expand your network
We know how your professional network can be your competitive advantage in your career. That's why we have a dedicated channel for members to introduce themselves and share their LinkedIn profiles with the community. This allows you to form real life connections with like-minded people.
Resources and tips
You will also find channels in the community where our team and other community members regularly share useful resources and tips to help you on this journey. These are resources on
financing your international education
examinations
selecting and applying for universities
visa and immigration process
travel and logistics
specific career paths
and more…
Get help
The best part of being in this community is having a safe space to ask any questions related to international education. We have dedicated spaces for different types of questions where students are already getting a tonne of value.
Celebrate with others
Another great part of being in this community is having a place to share your wins, small or big. Did you make progress towards your admission in your dream university? Share it to celebrate with the whole community!
Help others
When you move along the path of success, this community will present opportunities for you to help others behind you. Plus, as a member you also get the ability to invite your friends to the community.
Excited? We are too!
Click here to grab your invite to join the community.
Let's empower each other to pursue the best international education and a great career!
---
December 2nd, 2019 by Al C

Education is vital in cultivating a productive global society.

This reality holds true throughout the world. But sadly, not all are given the chance – especially students from developing countries who have huge potential but lack the financial means to experience top-class education.

Fortunately, InternationalStudent.com has partnered with MPOWER in bringing Central American students closer to their dream of pursuing higher education in the United States with the help of the MPOWER/InternationStudent.com Central America Scholarship Program.
More about the scholarship
The Central American Scholarship Program worth $3,000 which serves as the grand prize will be awarded to one lucky scholar from Central America. There will also be two additional scholarships worth $1,000 that will be given away to two lucky scholars.
Students can apply before the application deadline on Jan. 31 at exactly 11:59 PM Eastern Time. The winners will then be announced on Mar. 31.
The eligibility of the winner will then be verified and the funds will then be directly disbursed to the college or university of the winners.
Who is eligible for the scholarship?
Students who are citizens of any country belonging to Central America are eligible. They should also be enrolled and or accepted to study full-time at any university or college that is supported by MPOWER in either the U.S. or Canada.
The student should also be legally allowed to study in the U.S. or Canada via green card, DACA program, study visa, or permanent citizenship.
How will the winners be selected?
Essay
The student's written essay's quality has a huge factor in the selection process. The essay should demonstrate that the applicant has clear thought, has compelling and attainable visions and goals, and has excellent writing skills along with good grammar.
Willingness to Help the Community
The applicant should have a proven track record and willingness in taking part in activities that help improve the quality of living of marginalized communities in the U.S. or in their home country.
Intent to study in the US or Canada
The student should have a reasonable and justifiable reason on why they intend to study in the U.S. or Canada. Their goals and aspirations should uphold the common good of not only themselves, but of the community as a whole. The applicant should demonstrate willingness to become a productive part of the U.S., Canadian or Central American community as a whole, with the help of the education acquired.
Leadership Potential
The application should show strong signs of having the potential of becoming a leader and advocate for global peace, unity, and productivity in the U.S. and that of their home country. He or she must serve as a positive example to others.
Final Thoughts
Bringing education to underprivileged students from Central American countries who have the potential to create a positive impact to society is what the scholarship is about.
Hopefully, the InternationStudent.com/MPOWER Central America Scholarship Program winners will help improve, in one way or another, the living standards of their home communities and that of the North and Central American society as a whole with the help of their education.
---
September 9th, 2019 by Al C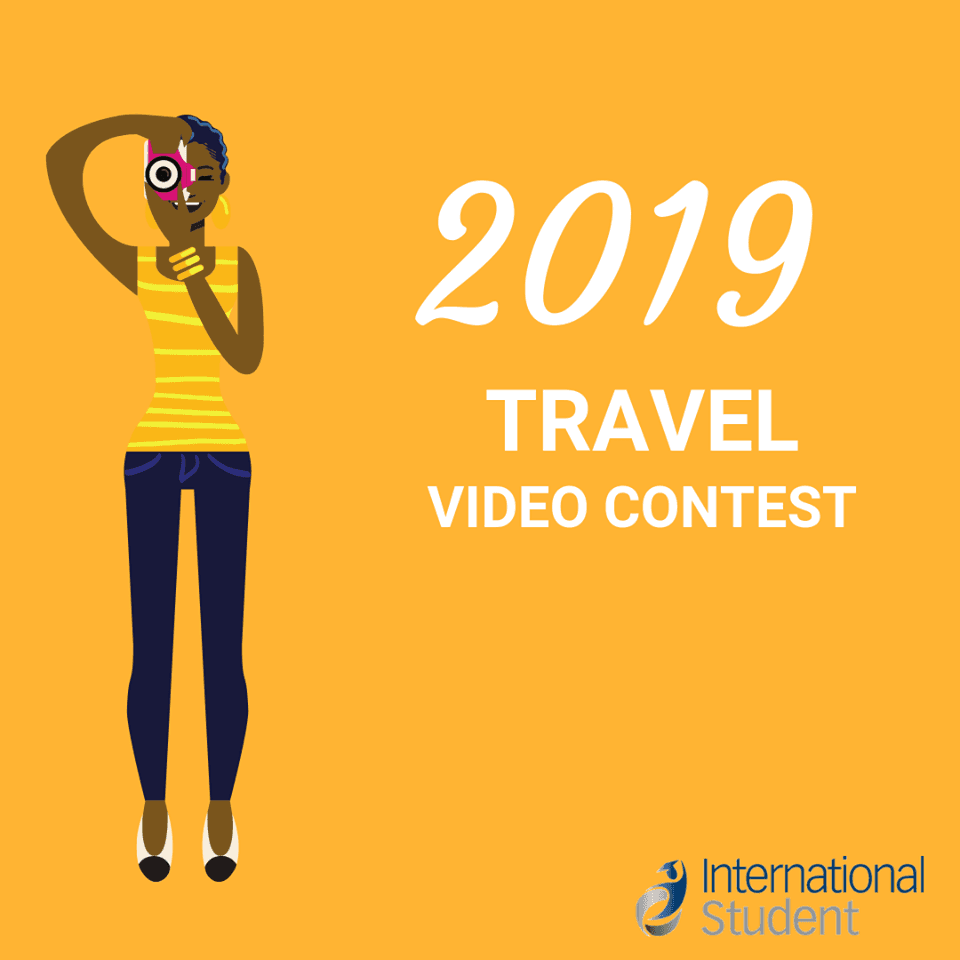 The 2019 International Student Travel Video Contest is open for entries!
International Student are again giving you a chance to win – this year there are 5 unique awards, including the $4,000 grand prize! To enter, you will need to submit a video that you made specifically for the 2019 International Student Travel Video Contest. Your video should be up to 4-minutes long and about one of two things:
That your dream is to be an international student, and that you have a school in mind to attend that you want to tell us about.
Or
That you are currently an international student with a dream trip that you've always wanted to take that you want to tell us about.
If your video is selected, you could win one of the following prizes:
First Place Winner: $4,000
Second Place Winner: $500
Third Place Winner: $250
GoAbroad Choice Winner: $500
Viewers' Choice Award Winner: $1,000
The judging panel this year is made up of an esteemed group of professionals in the international education sector, and you can meet the judges here, and all the details and deadlines for the contest can be found here.
Check out some past winners – this year it could be you!
Remember to submit your video for the InternationalStudent.com annual Travel Video Contest before October 15th, 2019.
While you're with us, find out about how international students can apply for a loan to study in Canada.
---
January 25th, 2018 by Juncal Caballero
Aussiewritings
Deadline: May 15, 2018
If you think you've got skills when it comes to writing then you won't want to miss the Aussiewritings Writing Contest where you'll have the chance to win up to $1,000.
What is it about?
AussieWritings.com is pleased to announce its first essay contest among participants from all around the globe. To encourage passionate writers, there will be money prizes:
First prize – $1,000
Second prize – $800
Third prize – $600
There is also a special prize of $200 for the most compelling and thoughtful essay. Winning essays will be published on AussieWritings.com and promoted throughout its social media.
Eligibility
All participants who are passionate about writing regardless their location, age or nationality are welcome to participate.
How to enter
You need to write an essay, answering to any of these questions:
What is the greatest achievement of mankind?
How technologies have changed our lives.
Pros and cons of compulsory education.
When writing your essay, consider the following:
Length: Keep your essay between 800 and 1000 words.
Originality: Your final piece should be unique and written all by yourself.
Language: English
Submission format: Your file should be saved as a doc., docx., or pdf. and named Essay_Contest_(your surname). Example: Essay_Contest_Smith
The number of entries: You can submit a few essays if you would like to.
Participation Cost: Free.
Send your essays in through email before May 15th, 2018. Winners will be announced on May 31st, 2018 on AussieWritings.com. You can find further details here.
---
August 31st, 2017 by Juncal Caballero
The 2017 InternationalStudent.com Travel Video Contest
Deadline: October 13th
Like in years past, InternationalStudent.com is hosting its Travel Video Contest, which means that it's your chance to win $4,000! The contest is now in its 12th year and if you are an international student or traveler, InternationalStudent.com is giving you the opportunity to showcase your creativity and explain why you want study abroad or take a specific trip during your international studies.
If you're currently studying abroad, you can tell us about any trip you would like to take. If you aren't abroad yet, you simply need to tell us why you want to study abroad.
How to enter
If you are interested in entering in the contest, there are a few things you will want to know:
You must be at least 18 years old

You should be either an international student or planning to become one

You have to create a 4 minute video that shares why you would like to become an international student or why you would like to take a specific trip during your time as an international student

Your video should tell a story and be made for this contest

Your video can be housed on Youtube or Vimeo

Originality and interest level in the trip, creativity and quality of the video, are the main criteria.
The deadline to submit your application for the twelfth annual travel video contest is 11:59 PM, EST on Friday, 13 October 2017. To get started, go to InternationalStudent.com and you also may want to have a look at:
---
September 2nd, 2015 by Jonathan Frankel
InternationalStudent.com Travel Video Contest
Deadline: October 22nd
The InternationalStudent.com Travel Video Contest is back and ready for your entry! If you plan on becoming an international student or if you are currently, make sure you get the details you need on how to enter this contest. One lucky, grand prize winner will receive $4,000 and their very own blog on InternationalStudent.com. The InternationalStudent.com judges will also name a second place, third place and viewers' choice winner. The grand prize winner will be announced on the last day of International Education Week: November 20th.
How to Enter:
If you would like to enter you need to be at least 18 years old and either plan on studying outside your home country or are currently. Create a 5 minute that shares why you would like to become an international student or why you would like to take a specific trip during your time as an international student. Read the full list of rules and regulations before you enter.
Your video must be original and creative, and have been created specifically for the InternationalStudent.com Travel Video Contest.
Before you start filming your video read these tips & tricks, view past winners and see who will be judging your video.
Get more information on how to enter the 10th Annual Travel Video Contest.
---
February 14th, 2008 by admin

Dartmouth College, a member of the Ivy League and at the "forefront of US higher education since 1769," has joined the elite group of US universities and colleges that offer need-blind admissions to international students.

From Dartmouth's news release:

"Need-blind admissions for International Students

Starting immediately with the Class of 2012, the College will extend its need-blind admissions policy to all international students. Previously the College was need-blind for students from the U.S. as well as those from Canada and Mexico and provided financial aid to other international students up to a preset budget maximum. This cap will now be lifted and Dartmouth will join a very small group of schools that have a fully need-blind admissions process for international students."

Under a need-blind admissions policy, a school reviews a students application for admission without considering the student's ability to pay. Then if the student is admitted, the school must make the tuition affordable by meeting the student's demonstrated financial need for all four years of their undergraduate study, through a combination of grants and loans. Dartmouth will become the 7th US school offering need-blind admission, joining MIT, Harvard, Princeton, Yale, Williams College and Middlebury College.

Visit InternationalStudent.com's Schools Awarding Aid page to see more on the US colleges and universities that offer aid to international students.

Read the entire press release on Dartmouth's website.
---
January 28th, 2008 by admin

From the Brown Daily Herald

A new endowment will increase financial aid for students from sub-Saharan Africa and will help them financially for two years after graduation if they pledge to return to work in Africa, President Ruth Simmons and Israeli businessman Idan Ofer P'12 announced Thursday.

The "Advancing Africa Scholarship Fund" was announced in Davos, Switzerland, where both Simmons and Ofer are currently attending the World Economic Forum. The scholarship requires students to sign a pledge to return home for at least two years after receiving their degrees – an effort to "build capacity" in the continent, Simmons told The Herald.

Ofer's gift of $5.75 million will fund $250,000 a year in scholarships for undergraduate students starting with the 2008-2009 academic year. The endowment will grow over time due to returns on investment, Simmons said, allowing the University to fund more students in the future.

The establishment of the fund marks an important milestone in Brown's efforts to attract international students. Until recently, Simmons said, it was hard to attract students from Africa. Even with financial aid, those students would have difficulty paying off loans or fulfilling the parent contribution. International students have long complained about a lack of economic diversity among their peers at Brown, something Simmons called "a valid concern." The endowment came as good news after years of "agonizing" over financial aid for international students, Simmons said.

Click here to read the rest of the story from the Brown Daily Herald.

Here's a list of US schools that offer aid to international students.

If you want an update when the next post comes out, subscribe to our blog.
---
November 19th, 2007 by admin

As we discussed in the last post, US News and World Report dominates rankings of colleges and universities in the US. The US News rankings are comprehensive and helpful in many ways, but there are critics of the rankings system. One small newspaper has proposed its own rankings system for the past three years.

When the Washington Monthly published its 2007 College Rankings, which can be viewed online here, it didn't look at average SAT score, average starting salary or average alumni giving, all standard fare in the US News and most other rankings. Instead, it graded schools based on three general categories — Social Mobility, Research and Service. Why? In the words of Editor Paul Glastris, from his stint on the Colbert Report, colleges should be ranked on their contribution to the public interest, not on whether they have great rock-climbing walls.

Here's the three things Washington Monthly uses to rank a college's contribution to the public interest:

1. Social Mobility: "We want our colleges to be engines of social mobility so that the poor can get a better life." Under this criteria, the magazine looks at the percentage of students receiving Pell Grants, which it considers a good indicator of the school's commitment to poorer students, as well as the percentage of those students that graduate.

2. Research: "We want colleges to create the research and PhDs that can power the economy." Because Washington Monthly believes that research and PhDs are the key to growing the economy in a global market, they measure numbers of PhDs and amount of research spending by the university.

3. Service: "And we want colleges to inculcate an ethic of service for young people." For this, Washington Monthly looks at the number of students entering the Peace Corps, the size of the school's ROTC program, and the percent of work-study funds spent on community service projects.

Click here to see the whole college rankings report.

As an international student, did you use the US News and World Report rankings to help you select a US school? Would this alternative rankings system play into your decision-making process at all? We would love to hear your input.

For an update when the next post comes out, subscribe to our blog.
---
October 29th, 2007 by admin

US News and World Report has dominated the college and university rankings in the US for years. Eagerly awaited each year, school administrators with improving US News rankings earn bragging rights while those schools on a downward trend must react vigorously to determine what has gone wrong. Parents and students use the rankings to determine to which schools to apply. By all measures, rankings have become critically important to how a college or university is perceived, particularly the US News rankings.

Critics of the US News ranking system are widespread and nothing new. For a summary of common critiques, read this excerpt from The Presidents Letter (dated May 10, 2007), developed by Lloyd Thacker of the Education Conservancy, and sent to college and university presidents in the United States in May 2007, concerning the U.S. News rankings:

"Among other reasons, we believe […] rankings: imply a false precision and authority that is not warranted by the data they use; obscure important differences in educational mission in aligning institutions on a single scale; say nothing or very little about whether students are actually learning at particular colleges or universities; encourage wasteful spending and gamesmanship in institutions' pursuing improved rankings; overlook the importance of a student in making education happen and overweight the importance of a university's prestige in that process; and degrade for students the educational value of the college search process."

Perhaps the simplest critique is that parents and students get overly focused on rankings during their college search, and ignore the most important thing: what college or university is the best "fit" for the student? With thousands of excellent colleges and universities in the United States, offering all kinds of programs and experiences, there are so many better ways to choose a school than whether it is in the top 20 in the latest US News rankings.

For international students in the US, finding the right fit in a US school is even more important. Since you will be far from home, largely on your own, and probably on a limited budget, setting up a life you will enjoy in a comfortable environment is critical. The key is to start your research early, and be clear and realistic about your educational goals and budget. To get you started in choosing a school in the US, visit the Study USA section of InternationalStudent.com. This will help you think through questions like, city vs. country, large public university vs. small private college, community college or four-year college, specialized school vs. liberal arts college, etc., and will put you on the track to finding the school that is the right fit for you.

In the next post, we'll discuss an alternative rankings system proposed by Washington Monthly, a small, progressive DC-based magazine. Maybe you caught the editor on the Colbert Report last week? Check it out here.

If you would like an update when the next post comes out, subscribe to our blog.
---