November 16th, 2018 by Juncal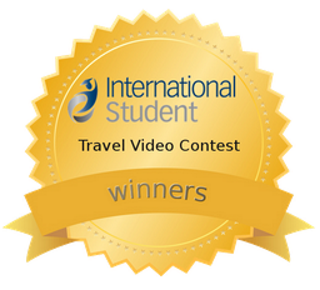 The 2018 InternationalStudent.com Travel Video Contest winners have been announced! For all the ones who have been following the contest, you know that it wasn't an easy decision for our judges since all the finalist videos were incredible, but they had to come with 3 winners. Today, the last day of International Education Week, we are pleased to announce the final winners of the 2018 contest:
The $4,000 grand prize winner: Mariana Barbosa with Remembering to Live
Mariana is from Brazil, an amazing country that unfortunately, due to all the budget cuts, had to cut off student scholarships at federal universities. For this reason, Mariana put her eyes on another country that will bring her more opportunities and new experiences, Canada! Mariana will walk away with the $4,000 grand prize to help her study in Canada!
The second place winner ($500): Prabhat Gurung with: Me and my Camera
Prabhat is from Nepal and he moved to New Jersey to began his undergraduate education. In the United States, Prabhat has made new friends and shared his culture with his fellow international peers. It's there where he found out what his true passion was: a camera. He wants to go home and share with his people everything he has learned while being abroad. Prabhat will receive $500 to help him pursue his dream of  sharing the beauty of Nepal with the world!
The third place winner ($250): Hoang Thuy Ha with Why Later?
Hoang is from Vietnam and found in dancing a therapy that made her a more confident person. She found this passion at the age of 30 and advises you not to wait any longer to follow your dreams. She will take home $250 to help her study dance therapy abroad.
Next year InternationalStudent.com will host their annual Travel Video Contest and you won't want to miss out! Check back on September 2019 for your chance to enter the contest!
---
November 15th, 2018 by Juncal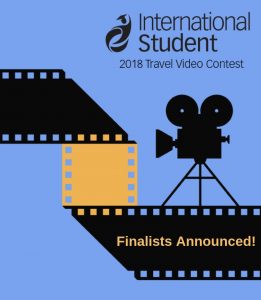 In late August InternationalStudent.com invited you to participate in their annual Travel Video Contest where students can create a 4 minute or less video describing their proposed study abroad, or any trip they would like to take if already studying abroad. After receiving numerous entries with emotional and inspiring videos, InternationalStudent.com has announced who the lucky finalists are, including the Viewers' Choice Winner.
We encourage you to watch their amazing videos and listen to their unique stories- perhaps one of your favorites was nominated within the 12 finalists! To choose the three final winners, InternationalStudent.com has a Judging Panel comprised of leaders in international education.
As well as watching the 12 finalist videos, we encourage you to check out the Viewers' Choice winning video: Leaving Routine Behind, created by Kaleema Lowery, who is actually participating for her second time in this contest! Winning the Viewers' Choice Award means she not only will receive $1,000, but also gains automatic entry into the finalist round. Check out Kaleema's video and let her tell you her story through her moving video, where she shares her desire to visit and live in South Korea in order to leave the routine behind.
Stay tuned as the 3 winners will be announced during the last day of the International Education Week: November 16th! If you're interested in entering this Travel Video Contest next year make sure you sign up to receive the latest alerts from InternationalStudent.com.
---
October 24th, 2018 by Juncal Caballero

University of Arizona
Deadline: April 1st
Looking to study at the University of Arizona (UA) but can't afford the tuition? This is your chance! The UA is offering Tuition Awards to international students that go from $4,000 to $24,000 per academic year.
The University of Arizona is one of the United States' most respected public research institutions. The UA provides more than a world-class education, they help students develop the necessary skills of discovery, research, and creativity and that's why you can't miss this opportunity to study there!
What's the scholarship about?
In recognition for students who exhibit an outstanding academic performance, the University of Arizona offers the International Tuition Award which offers $4,000 – $24,000 per academic year for freshman, and $5,000 per academic year for transfer students.
Eligibility:
International applicants whose primary language is not English, or who attended school in a non-English speaking country, must prove English proficiency.

Must verify your lawful presence as described under Arizona's Proposition 300.

Semesters without lawful presence verified will be lost and counted against the scholarship's total eight semesters.

Awards are for undergraduate studies only.

In addition to the criteria above, submit a complete application and all required documents.

Scholarship recipients must accept their award by paying their enrollment fee by May 1 for freshmen and by June 1 for transfer students.

Sponsored students are not eligible. However, if sponsorship is for years two – four only, a one time award may be applied per the charts above.

Non-degree seeking, exchange, and conditionally admitted students are not eligible.
If you meet the criteria, be sure you submit your application on time for the next fall semester!
Get more details on the University of Arizona International Tuition Award and how to apply.
---
May 24th, 2018 by Juncal Caballero

Trendhim Aps
Deadline: November 1st
The Trendhim Scholarship was created to empower and support the future of ecommerce superstars, and each year Trendhim Aps supports one or more students by providing them with €2.000.
The Scholarship was founded to cover costs associated with ecommerce education or projects, which can cover travel expenses, conference fees, meals, or school attendance.
Eligibility
To be eligible to apply, you can be from anywhere in the world and be any age. You also must be studying one of the fields below:
Fashion

Marketing

IT

Sales

Organizational Design
PhD students can also apply for the Scholarship. It is expected that the person(s) receiving the support subsequently offers a brief description of the results accomplished or abilities obtained with the help of the scholarship.
How to Enter
In order to be considered, your education or project for which you're seeking funds should be related to ecommerce.
You are expected to submit a proposal in which you clearly explain what the funds will cover, along with a budget. Name, address, and telephone number must be included. Then, submit your proposal to csr@trendhim.com.
Get more details on this scholarship and how to apply here.
---
March 23rd, 2018 by Juncal Caballero

Full Sail University

Deadline: Applications must be submitted prior to the desired start date
Full Sail University is an American private, for-profit university located in Florida. Full Sail is dedicated to helping creative students follow their dreams in the entertainment and media industry. With students from over 65 countries, 110 world-class recording studios, and many spacious film soundstages, Full Sail's innovative and accelerated style of education provides a unique real-world education in film, music, animation, video games and recording arts.
Full Sail University is offering students the opportunity to  apply for the Full Sail Global Achievement Scholarship, which is designed to encourage and develop future international entertainment and media professionals throughout the world.
What is it?
Through the Global Achievement Scholarship, eligible participants may receive up to $5,000 toward the tuition of their Full Sail campus degree program. If you are interested in attending Full Sail University and applying to this scholarship find more information about it here.
Eligibility
To be eligible you must:
Be a non-US citizen or non-permanent resident, as defined by Full Sail University.

Applicants must have applied for one of the following immersive campus degree programs: Computer Animation, Creative Writing, Digital Arts & Design, Entertainment Business, Film, Game Art, Media Communication, Music Business, Recording Arts, Show Production, or Sports Marketing & Media.
How to enter
Complete and submit the Global Achievement application, and an original 250-word essay on "How My Full Sail Education Will Help Me Achieve My Career Dream" prior to the first day of class.

The Global Achievement Scholarship application must be submitted to the Full Sail Scholarship Committee prior to the desired start date.

To apply for this scholarship, please contact your admissions representative.
Get more details on this scholarship and how to apply.
---
December 14th, 2017 by Juncal Caballero
University of Sussex Scholarship
Deadline: March 10th
Have you ever dreamt about spending a summer in England? Dream no more! The University of Sussex offers you the opportunity to experience a life-changing summer in its International Summer School!
The International Summer School at the University of Sussex provides an opportunity to meet and study with people from all over the world and is now offering a 50% scholarship to spend next summer on its campus! The International Summer School program lasts for 4 weeks, just enough time to have an immersive cultural experience! And it gets even better as the program also includes social activities such as Harry Potter tours, karaoke nights and pub quizzes.
How to apply?
The Sussex teaching system is based around intensive, small-group teaching through lectures, workshops and labs. Each module carries 15 credits and lasts for four weeks and the start date for Module A is from June 23 and for Module B from July 22.
To apply, just follow these three steps:
Complete the

Sqore challenge

.

Decide which ISS module works best for you.

Apply online to the

International Summer School

.
Do you want to know more about the school and city? The University of Sussex was founded in 1961 and is located in Brighton, England, which has been known as "London by the Sea." Brighton quickly established an international reputation for the quality of its research, for its innovative and effective styles of teaching, and for attracting scholars from all over the world. Brighton is an amazing place to be a student as you will enjoy the sun and the sea. It also has great places to eat and drink, many shops and any other entertainment activity you can find in any other big city. Are you excited now? Get more details on the International Summer School scholarship and apply before March 10th!
---
November 22nd, 2017 by Juncal Caballero
If you've been wondering what happened with the InternaionalStudent Video Contest, the wait is over! InternationalStudent has just revealed who the lucky final winners are. Like every year, the quality, creativity and originality of the videos surprised the judges and although it was not an easy decision, the three final winners were selected.
The $4,000 Grand Prize Winner: Dini Restyanti  with "Finding My Ikigai"
Dini displays her great talent for animation through this video!  Her skills have impressed us all and we are sure that she soon will find her "Ikigai", which in Japanese means: "a reason to wake up in the morning".Congratulations, Dini!
Second Place Winner: Laura Reyes with "Drawing My Trip"
Laura has always dreamed of becoming a recognized producer. She creates and displays the emotions of people through her work. In order to achieve this, a great deal of effort is involved, but to become a master in her field, Laura believes she needs the best possible education and must move to Los Angeles!
Third Place Winner: Eliel Freer-Sullivan with "New York, New York, My American Dream"
Eliel is a great Brazilian composer and singer who decided to tell us his story with a song that not only shows us that he is a brilliant composer, but also that he has an incredible voice!
Congratulations to the final winners who more than deserved these awards! Feeling like you missed out? Not to worry! Remember that the contest takes place every year, so it's never too soon to gear up for our next contest!
---
November 8th, 2017 by Juncal Caballero
A couple of months ago we shared with you the InternationalStudent.com Travel Video Contest, where students from around the world could submit a short video sharing a proposed study abroad trip or for those already studying abroad, a trip they would like to take. InternationalStudent.com received numerous videos from around the world and are pleased to announce that the 2017 Travel Video Contest Viewers' Choice winner and finalists have been announced!
In past years the contest has drawn in a plethora of talented individuals from around the world who submit impressive videos, and this year was no different. The InternationalStudent.com Travel Video Contest team came up with a short list of 14 finalists – combined with the Viewers' Choice Winner there are 15 finalist who will move into the next round of the contest. Take time to watch these videos as you will surely be entertained as students tell their stories in different ways, always showing off their skills, either through storytelling, singing or animation, among others.
Here it is the finalist videos and make sure you watch the Viewers' Choice winning video: Making the US my new home, where Sebastian Bayona, an international student from Peru at Oklahoma State University, shares his experience about what it means to move abroad and leave your family, friends and home behind and how important it is to overcome feeling homesick to really enjoy the experience of making the US your new home. Going to Maryland to spend Thanksgiving with part of his family is why Sebastian Bayona wanted to win this contest. InternaitonalStudent.com will announce the winner on November 17th, the last day of International Education Week, so stay tuned.
If you're interested in entering this Travel Video Contest next year make sure you sign up to receive the latest alerts from InternationalStudent.com.
---
April 27th, 2017 by Felicity Bradstock
One of the most difficult parts of being an international student in the US is finding the funds to do so. Luckily, there are numerous outlets where international students can look, including home country funding, family funding, scholarships and even loans. However, it's important to understand that as your time in the US grows, so will your desire to make purchases beyond resident hall decorations, classroom supplies and the occasional night out. International students who plan on studying in the US for a few years often decide to make a larger purchase like a car. Before being able to make this type of purchase you will need to have established credit; Because of this, it's important to start building credit as soon as possible.
One great way to establish credit is by obtaining a credit card. Having a credit card and making frequent, small purchases then immediately paying off the balance can help build credit as an international student in the US. However, without a social security number or established credit, new international students may find it difficult to open a credit card.
One option that you'll want to explore is SelfScore. SelfScore was established by former international students, for international students. They offer the only MasterCard designed specifically for international students, which means you do not need a social security number to apply and you can count on them always offering you fair credit.
SelfScore offers two types of MasterCard: The Classic and The Achieve. With both of these cards you can enjoy:
No Annual Fee
No Deposit
No Social Security Number Required
Fraud Protection
No Foreign Transaction Fee
First Late Fee Waived
Accepted Everywhere MasterCard is Accepted
SelfScore prides themselve on "opening the door of the US financial system for international students." See if a SelfScore MasterCard can help you establish your credit during your time in the US.
---
May 17th, 2016 by Jennifer Frankel
SpanishDict.com's Beca #Traductor
Deadline: August 31, 2016
Do you believe in the value of words? Have you spent time abroad, or have you had to communicate in another language? If you answered "yes", chances are that you've gained a deep appreciation of learning another language – and the value of being able to communicate in someone else's native language. If that rings true for you, then this award may be for you.
If you are learning English or Spanish, over the age of 13 years old, are a current student, and wouldn't mind being $1,000 richer, then you won't want to miss your chance with this competition. Hosted by the infamous SpanishDict.com, they are giving one lucky winner $1,000 to help cover their educational expenses anywhere in the world.
Here's how:
They are looking for a short essay (yes, short! A maximum of 250 words) describing a time when you had to translate from either English to Spanish or alternatively, from Spanish to English, during a conversation or describing an experience.
They want to hear your experience, so be sure to be creative and think back to all your travels and the people you've met along the way. Write your best story and be sure to submit before August 31st to make sure you are considered! Learn more and check out this award right online – buena suerta!
---