September 10th, 2019 by Al C

The world we are currently living in is a society that thrives and depends heavily on computers and technology so this 2019-2020.

Gone are the days when we can function at our best without all the needed technological complexities. Now, we not only need the right equipment and computers but also the right minds to work on today's tech-driven world.

That's where Indeema comes in.

Indeema is a software company that develops business solutions for its clients using the latest tech. Aside from that, they also believe that having their own contribution to the industry can be best defined by offering scholarships.

Well, that's just what they did as our friends at Indeema offers a scholarship program worth $1,000 for computer science students and to those who are studying STEM-related courses.

Indeema believes that investing in bright minds and aspiring talents, as well as sharing their resources and knowledge to the right people is one of the best things they can do for the upliftment of society.
Who is eligible for the STEM and Computer Science Scholarship?
To assist high school seniors or freshmen students in the USA, Indeema is offering the $1,000 Scholarship Program for enrolling at a university/ college for:
Computer science (CS)
Computer engineering (CE)
Related science, technology, engineering, math (STEM) programs.
The company believes that it is in supporting students who are following a path towards computer and tech literacy is the future. Thus, those who are interested in enrolling in computer science, computer engineering, as well as other STEM-related programs, specifically in science, technology, engineering, and mathematics, are eligible to apply for of this scholarship fund.
What about Indeema?
Indeema is driven by their passion to not only cater quality tech business solutions to their clients but also positively contribute to the overall welfare of the industry. This is why the company's mission is driving progress with tech skills and science.
The company also lead educational courses and collaborate with research institutions in Lviv and Austria. Furthermore, Indeema also believes that it is important for them to facilitate the development of fresh minds in the IT industry so that it will progress for the betterment of everyone.
Because of this, they decided to finally grant educational scholarships to students in the US who are interested in pursuing careers in computer science and other STEM courses. This is also a strategic move for the company as it is where their main office is located.
Indeema knows that starting can be hard. That's why they want to create a stepping stone and encourage IT enthusiasts to build their career in this innovative landscape.
Not only will this create brighter minds in the tech industry, but this will also make it easier for them to leverage on their careers, and in the process, help Indeema and the entire tech sector improve.
Any wonderful product or disruptive innovation is done by people like you or like Indeema — passionate dream chasers.
Study hard and work smart, and there will be nothing you can't achieve!
Who is eligible for the $1,000-STEM and Computer Science Scholarship?
High School Graduates
High school graduates who graduated from a public school are eligible. However, those who have graduated from a private school are also welcome as long as the school they've graduated in is accredited.
STEM Course
Students who are going to pursue a degree and career in computer science, computer engineering, and other STEM-related courses are eligible to apply for the scholarship.
Enrolled College Students
Students who are already enrolled or have been accepted for enrollment for a four-year course at any accredited college and university in the US are eligible for the scholarship.
High SAT Rating
Students who have a high SAT score are eligible. Specifically speaking, only those who have SAT scores of 1350/1600 and above. Also, those that have a cumulative GPA of 3.0 as well as a 27 or higher composite ACT score are eligible for the scholarship.
Interested and Passionate
If you are deeply passionate and interested in computer science, computer engineering, and technology, then you're a great fit for the scholarship.
If you are interested you can find out more below. You must apply for the $1,000 Scholarship Program by March 1st.
Read more from our blog.
This award is brought to you by IEFA.org and all responsibility for the program lies with the provider – in this case, Indeema. For more information see the listing on IEFA.org and contact the provider directly.
---
September 9th, 2019 by Al C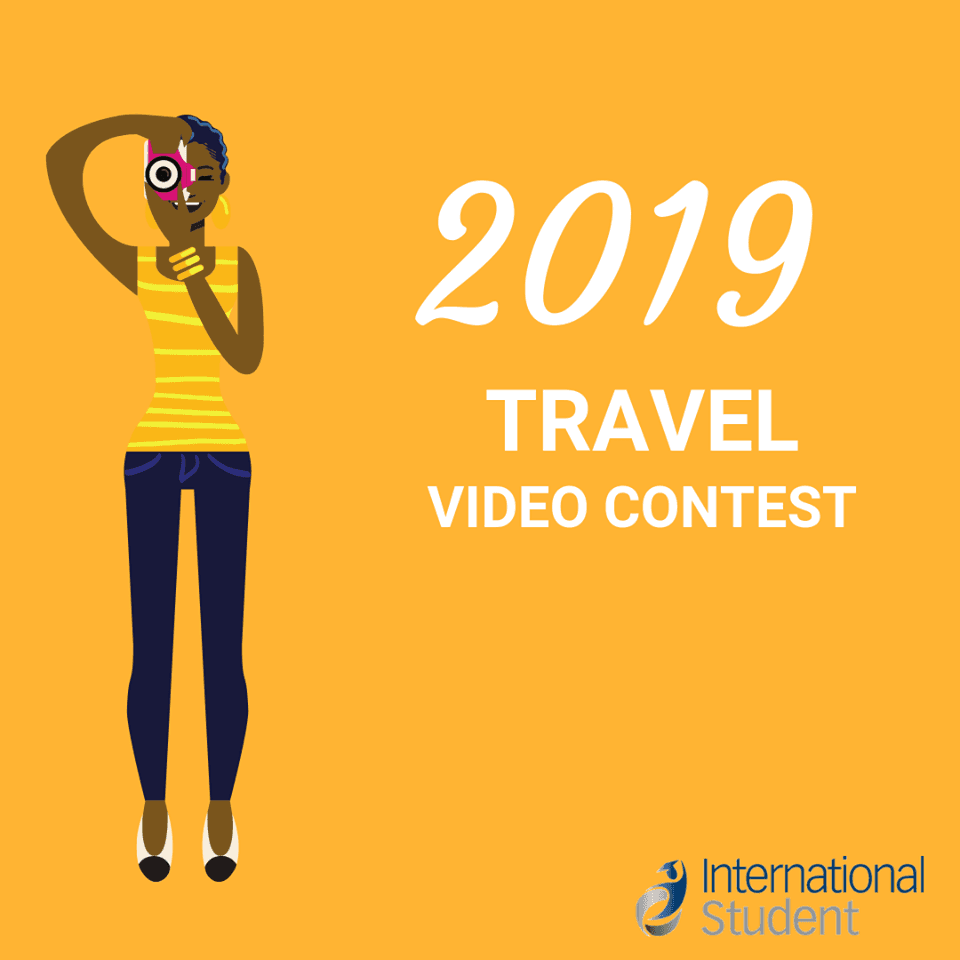 The 2019 International Student Travel Video Contest is open for entries!
International Student are again giving you a chance to win – this year there are 5 unique awards, including the $4,000 grand prize! To enter, you will need to submit a video that you made specifically for the 2019 International Student Travel Video Contest. Your video should be up to 4-minutes long and about one of two things:
That your dream is to be an international student, and that you have a school in mind to attend that you want to tell us about.
Or
That you are currently an international student with a dream trip that you've always wanted to take that you want to tell us about.
If your video is selected, you could win one of the following prizes:
First Place Winner: $4,000
Second Place Winner: $500
Third Place Winner: $250
GoAbroad Choice Winner: $500
Viewers' Choice Award Winner: $1,000
The judging panel this year is made up of an esteemed group of professionals in the international education sector, and you can meet the judges here, and all the details and deadlines for the contest can be found here.
Check out some past winners – this year it could be you!
Remember to submit your video for the InternationalStudent.com annual Travel Video Contest before October 15th, 2019.
While you're with us, find out about how international students can apply for a loan to study in Canada.
---