January 31st, 2013 by Jonathan Frankel
CollegeWeekLive Monthly Scholarship
Deadline: Unrestricted
If you dream of being an international student in the US but are unable to afford it, and are unsure which school to attend, enter to win the CollegeWeekLive monthly scholarship. Here's the process you will need to follow:
1. Create a student account on IEFA.org
2. Visit the CollegeWeekLive Monthly Scholarship page and follow the contact link
3. Once there, sign up for the college search and log in
4. Visit three colleges that you are interested in attending
5. Be entered for a chance to win $1,000 with the CollegeWeekLive Monthly Scholarship
To receive this award you don't need to complete an essay, only follow the steps above to enter. Each month a new winner will be chosen to take home $1,000. Even if you don't win the $1,000 you still have the opportunity to find the US school you have been searching for.
*Bag with money for college photo courtesy of Shutterstock
---
January 28th, 2013 by Bryanna Davis

International student loans can be a tricky prospect, especially for incoming freshmen without any experience getting them. Follow these Top 10 Student Loan Tips to help you navigate the world of international student loans!

1. Find a cosigner with established credit

Most international students must have a cosigner in order to apply for a US student loan. Because of this, it's important to find a cosigner that has good credit history. Since these are non-collateral loans, lenders are going to evaluate the financial capability of your cosigner. Not only will a good cosigner improve the likelihood of getting a loan, but it will also land you a better interest rate and more favorable terms.

2. Don't just consider the interest rate

The interest rate is the most important factor when evaluating an international student loan, and rightly so. But it's not the only factor there is. A loan with a low interest rate is good, but what about any other fees or repayment terms? Thoroughly research your loan to make sure you know all the details.

3. Find loans that defer interest

One of the best student loan tips beyond low interest is finding a loan that holds off on accruing interest until you're finished with school and ready to begin repayment (and hopefully have a job!). This can make a huge difference in the final amount that you will pay for the loan.

4. Only borrow as much as you need

This may seem like a no-brainer, but too often students don't put enough work into projecting their schooling costs and wind up borrowing significantly more than they need. Be honest with yourself about your expected spending and make sure you only borrow enough to meet your needs (and not your wants!).

5. Pay it off as soon as possible

Another seemingly obvious strategy, but many students wait until a loan payment is due and then only pay the bare minimum to avoid default. Don't stretch yourself too thin, but if you find yourself able to pay off part of your loan ahead of time or pay more than the minimum monthly payment, do so and get the loan off your back earlier!

6. Reassess your situation with each new loan

As you progress through school, the loan options can change due to both your cosigners credit history and the shifting financial landscape. Don't just stick with the exact same loan terms year to year – see if you can renegotiate for better terms or even look to another lender for a better option. But at the same time…

7. Consolidate your loans as much as possible

If you already have the best terms possible with the loan you have, keep things simple and stick with the same lender. Also try to get the full amount you need through just one loan a semester. Once you're into repayment, see if you are able to consolidate your loans into fewer repayments plans as well. Doing this will mean a lot less hassle repaying your loans once you're out of school!

8. Consider private loans

International students may not have another option, but even U.S. citizens studying abroad or enrolling in an international school should consider the world of private loans in their loan search after they've maximized any government assistance. As the demand for student loans increase, private lenders are beginning to offer better and better terms to compete.

9. Find a cosigner

This step will be mandatory for most international students, so start thinking about having a cosigner long before you actually have to finalize a loan! A cosigner should be a creditworthy person close to you, such as a relative or older friend, and they should be willing to cover your payments in the unfortunate situation that you are not able to.

10. Start the process early

Just like finding a cosigner, the best thing you can do to put yourself ahead in the student loan battle in general is to get started early! You don't want to make any final decisions before you know the specifics of your school costs and financial aid package, but it's never too soon to look into loans and see what kind of terms are available out there for students like you.

Student loans can be a huge, confusing mess, especially for international students. But keep these Top 10 Student Loan Tips in mind and you'll be on the road to happy repayment in no time!
---
January 24th, 2013 by Jonathan Frankel
Short-Term Travel Grant
Deadline: February 6
Postdoctoral scholars and professionals who are US citizens wanting to complete research abroad have the chance to receive a short term travel grant from the International Research & Exchanges Board (IREX). This grant can be awarded up to $10,000 for roundtrip airfare, visa fees, office support needs and a small stipend.
Short-term travel grant winners will be traveling to 10 different countries to conduct research on issues like health, human rights and political activism. Applicants must already have a degree in one of the following: Liberal Arts/Humanities, Languages/Linguistics, Journalism/Broadcasting, Economics, Agriculture, ESL (English as a Second Language), Sustainable Development, International Education, Theological Studies, Political Science/Social Science, Public Administration, Philosophy & Religion, Law & Legal Studies, Education, Cultural Studies, Communications and Business/Management.
This grant is sponsored by Title VIII program through the Bureau of Intelligence and Research (INR) and the US Department of State. The goal of these research efforts is to strengthen the expertise of US scholars in Eastern European and Eurasian regions.
If you would like more information or to apply for the short-term travel grant you can start here.
*Stock Market Graphs Analysis photo courtesy of Shutterstock
---
January 21st, 2013 by Bryanna Davis
Many international students will find themselves turning to loans to meet their financial needs for college. One of the most important things for these students to look into right away in the loan search is finding a cosigner. While you won't always need a cosigner for your loan, having one ready is a big help in case you do.
So what is a cosigner? A cosigner for a loan is a trustworthy, financially sound person who backs up a loan for an individual who may not have sufficient credit history or may not be able to show good credit history. From the lending institution's perspective, this provides peace of mind (especially since many student loans are non-collateral loans, meaning that there is capital put down in case of non-payment). If you, a young international student, have a cosigner for your loan attesting to your character and financially backing your ability to repay the loan, the institution is much more willing to give you a loan in the first place or offer more favorable terms for a loan in question.
If you are an international student, no matter which loan or lender you choose to apply with, a cosigner is required due to the relative uncertainty that comes with giving loans to people out of the country. This person has to have good credit, be a US citizen or permanent resident, and has lived in the US for the past two years.
The best way to go about finding a cosigner is to turn to friends and family. Your family is the best bet, since it will include adults with a more established financial history and it's a good source of people wanting to help you out. A helpful friend is also a good option, though finding a friend who has the significantly better financial history typical of a cosigner may be difficult for international students.
Finding a cosigner is one of the most important things international students can do to help their loan search, so make sure to get started as soon as possible!
* Photo of proud parents kissing their kid courtesy of Shutterstock
---
January 17th, 2013 by Jonathan Frankel

Passion for Fashion Scholarship Competition

Deadline: February 14

If you love fashion and want to pursue a career in this field, now is your chance to receive financial assistance to do so! The Art Institute is sponsoring a passion for fashion scholarship competition for interested students to have a shot at earning a half-tuition scholarship to attend the Art Institute and a VIP trip to New York City. This award will be granted to one lucky grand prize winner. There will also be more than $100,000 in tuition scholarships granted to other local winners. This competition is open to high school seniors in the US (including Puerto Rico) and Canada.

The passion for fashion scholarship competition includes two categories that students can enter, based upon their area of interest:

Fashion Design: If designing clothes is your area of expertise, create three sketches of an evening garment and compete with others for the best design. If your design is selected as the local winner you will have the chance to work with a seamstress to have your creation made.

Fashion Marketing & Merchandising and Retail Management: If you are more interested in following latest trends, you have the chance to predict the next hottest fashion through a vision board and demonstrate your ideas.

Find out more information on how to enter the passion for fashion scholarship competition here.
---
January 14th, 2013 by Jennifer Frankel
It's January, and international students are ringing in the New Year in the United States and in their home countries all over the world. As you look forward to what 2013 will offer, keep in mind that a New Year usually means a new semester starting up, too! And with that, it's definitely time to think of how to get your student loans for the new semester!
If you are an international student, you will soon realize that federal loans through the U.S. government won't be an option for many international students looking for student loans. There are, however, private student loans that international students are eligible for if they have a US cosigner (no cosigner loans are available only in select instances). This cosigner must be a US citizen or permanent resident with good credit who has resided in the US for the past two years.
Private student loans function very similarly to federal loans, with the added advantage that many private lenders open their services to international students as well as U.S. citizens. There are also rarely application deadlines (as opposed to the rigid deadlines found through the U.S. and state governments), and funds can be used to pay for those incidental educational expenses (your flight into the country, for example) which can sometimes be incurred at a higher rate by international students. Institutions granting loans to international students include both banks and specialized financial aid organizations. Make sure to look into these options early, as applying internationally may take some time.
Whether it's continuing loans from your fall semester or seeking new ones to meet unforeseen expenses for the spring semester, now is the time to get on top of your student loans for 2013. Search for private student loans, and talk with your school's financial aid advisor to straighten out your student loans for the new semester as soon as possible!
* New Year Money photo courtesy of Shutterstock
---
January 10th, 2013 by Jonathan Frankel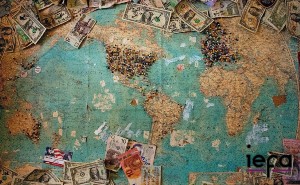 UFAW Animal Welfare Student Scholarship
Deadline: February 28
If you are interested in the welfare of animals and wish to pursue studies or research relating to the improvement the animal welfare, the UFAW Animal Welfare Student Scholarship is an award that you might be interested in. This award is accepting applications until February 28th and will be granted to qualifying individuals to assisting with financing their research efforts.
Students who are studying at a college or university on the British Isles or outside their home country at a school that has a UFAW University link representative are welcome to apply for this award. This award is typically granted to students who are studying within the sciences in subjects like agriculture, biology, veterinary science or zoology.
UFAW Animal Welfare Student Scholarship grants a £170 subsistence allowance to recipients along with a £30GBP allowance for project expenses to the department in which the student will be conducting the research in, for up to eight weeks.
Projects can be carried out either in the UK or overseas, but must relate to the welfare of farm, companion, laboratory, zoo or wild animals.
If you would like more information on how to apply for the UFAW Animal Welfare Student Scholarship please visit here.
*Business man and watering pot photo courtesy of Shutterstock
---
January 7th, 2013 by Jennifer Frankel
The amount of students who study abroad – defined as U.S. students embarking on a short-term course of study in another country – is increasing every year. And while your financial aid package through your home school will typically be continued even during this short time away, the added expenses of the international experience can mean needing even more loans. But when should you apply for study abroad loans?
The simple answer is that it depends on your situation! If you're wondering "When should you apply for study abroad loans?" and looking for a hard date, there isn't one. That is because study abroad loans will almost all be from private lenders, which do not in fact have application deadlines like federal loans or financial aid through a school.
So the right time to apply is all about the specifics of your own situation. A few things to consider:
You only want to borrow as much as you need, so you'll have to have a complete picture of your total study abroad costs, your existing financial aid, and the amount of ground you have to make up between them before you go ahead getting a loan. This may mean waiting for your school to finalize your financial aid package for the semester in question, holding off until you know the specifics of your living arrangements abroad, or planning out your incidental expenses for diversion. And it goes without saying that you don't want to be overly proactive and start taking out loans before you've even been accepted into a study abroad program!
Leave time to compare student loans to get the best deal. It'll take some research, and even the lowest interest rate may not be the best fit for you if it comes with less favorable repayment plans, deferment options, and so on. Don't get stuck with a bad loan just because you didn't have the time to vet your options.
Make sure you line up a cosigner. The personal approval and financial fallback plan represented by a cosigner will get you lower interest rates and a better loan in general, but you'll have to leave time to work through the paperwork. Again, this is not a thing to be left until the last minute.
So when should you apply for study abroad loans? As long as you make sure you have your full financial picture, thoroughly research your options, and get a cosigner, there's no wrong time!
Other Interesting Posts:
* Airplane flying around the world photo courtesy of Shutterstock
---
January 3rd, 2013 by Jonathan Frankel
Ramapo College of New Jersey Presidential Scholarship
Deadline: January 12
New freshmen international students at the Ramapo College of New Jersey have the opportunity to receive an $18,000 scholarship to be used toward tuition at Ramapo College. Eligible students who maintain the required number of school credits and grade point average are able to receive this award for up to four years, giving the applicant a total of $72,000 for their education.
To be considered for the Ramapo College of New Jersey presidential scholarship, you must be an freshmen international student who plans to attend Ramapo College and has applied for fall school admissions by January 12th if you will be a nursing or biology major. All other majors have until March 1st to apply.
Students must meet the additional following criteria to receive this award:
Be in the top 10 percent of their high school class
Have an SAT score of least 1230 in critical reading and mathematics
Have an active role in their community
Other factors that can have an effect on the applicants' chance at receiving the Ramapo College of New Jersey presidential scholarship include special talents, socio-economic background, awards, honors, and essay question responses.
To find out more on the Ramapo College of New Jersey presidential scholarship and how to apply, visit here.
A portrait of a college student photo courtesy of Shutterstock
---