July 24th, 2020 by Al C

In this post we're comparing studying as a foreign student in the USA with studying in Canada – if you're interested in studying in either country then you're in the right spot-as we will discuss some of the big advantages of studying in each.

Now let's dive straight in!
Why you should think about studying in Canada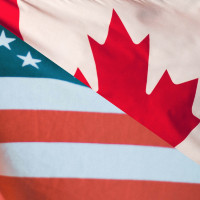 High quality educational services
A degree in Canada is just as good as a degree from the U.S., Australia, or the UK.
Canadian universities are doing well in international rankings and Canadian universities rate among the world's top 50 universities.
There's no question that a Canadian education is a world-class education, whether you're attending a university, college, or technical school.
Relatively Affordable
The most important obstacle for most students seeking to study abroad is the cost.
And while international students pay higher tuition fees at Canadian universities than domestic students, the average annual tuition for a Canadian undergraduate degree for a foreign student is considerably lower than in the United States , Australia, or the United Kingdom.
Foreign students must also find housing and support their everyday lives. The cost of living in Canada is quite affordable compared with many other top destinations for foreign students. And when you consider the average annual cost of living to be lower than other countries with also lower average annual tuition fees, Canada tends to be a really good opportunity, indeed.
It is possible to get an International Student Loan to study in Canada, too.

You can also search our database of scholarships for international students.
Employment
While Canada is a relatively affordable option globally, studying abroad is undeniably expensive.
International students in Canada are allowed to work up to 20 hours a week during school term and full time (30 hours a week) during scheduled breaks, such as holidays. Most students don't have to get a work permit to work when studying.
Security
Another big reason many students choose to come to Canada is personal safety. Studying abroad can be frightening, because you are leaving your family and friends – your safety net – at home. The Institute for Economics & Peace ranked Canada 8th most peaceful nation in the world. The location and relative isolation of Canada geographically provides a bit of a shield against most international disputes.
Canada has a freely elected government, and the Charter of Rights and Freedoms of Canada guarantees the fundamental rights and freedoms of those living in Canada. Canada's worldwide reputation is as an inclusive and non-discriminatory society. Immigrants make up 20 percent of Canada's entire population and Canadian regulations ensure that all citizens are protected from prejudice whatever their circumstances may be.
Immigration Opportunities
You typically get temporary status as a foreign student in the country where you are studying. You need to get back home when you graduate.
However, contrary to other countries, Canada has a variety of programmes that enable foreign students to be moved to permanent resident status after their studies. Options like the Post-Graduation Work Permit encourage students to live and work on an unrestricted work permit after graduation, which lets them gain some Canadian work experience. Most provinces in Canada have Provincial Nominee systems for applicants with studying or working experience in the province, and the point-based immigration scheme rewards Canadian job and education experience. Approximately half of all foreign students consider applying for permanent residency in Canada after completing their studies.
Economics
Canada is one of the world's largest economies, and students are given plenty of opportunities to work. You have the chance to communicate with stakeholders of your chosen sector and network with them. And while you study, or after graduation, you could gain valuable experience working for industry-leading Canadian companies.
Your Canadian education and improved language skills in either English or French may provide global opportunities should you want to return to your home country or move abroad.
Canadian employers seem to prefer Canadian work experience over foreign work experience, so if you do chose to live in Canada your experience could make you stand out from other applicants!
Why you should think about studying in the United States
Flexibility in choosing your major field of study
It is estimated that 48 of the top 100 universities worldwide are in the USA. Flexibility in academic fields is one of the biggest factors which distinguishes US colleges from other universities around the world.
Usually, you are not required to specify your major until after your second year of study. Most students take advantage of these two years to explore different academic goals before deciding on a major. Students are expected in most other nations to determine their field of study before even applying.
A relatively diverse curriculum
Many U.S. colleges mandate that you take general or "core" education classes.
They provide you with the opportunity to learn about a wide range of academic topics – not just your major or concentrated research area. These classes, often entitled "liberal arts", cover many subjects from writing to sciences and philosophy.
Internship opportunities & job prospects
With an internship, you will get a head start on your career – opportunities are provided by most US colleges. You will gain hands-on experience and exposure to your profession in the real world, plus the possibility of better-paid jobs after graduation because you already have some experience in the job.
Read about working in the US
Activities on campus
Colleges in the U.S. offer a wide array of sports , clubs, societies and events outside the classroom, so whatever you are interested in – you will find it right there on campus!
Cultural Diversity
Students studying in the US come from all over the world. You'll be able to meet new people from various backgrounds every day , learn new languages, make friends and learn about other cultures – and share your own!
Professional assistance
Most schools have a dedicated office devoted solely to assisting their international students with any needs. They can help you develop your English, or deal with visa problems, financial support, and even help you adapt to cultural differences which can be quite a big deal in a new country.
When studying in the US one important thing to remember is that it can be very costly – far more costly than many other countries in the world. Through this article you will find out more about how to finance your education in the USA:::Link::
Then you can find out whether you qualify for a loan to study in the US:

You can also search our database of scholarships for international students.
---
And there you have it! Lots of great reasons why you would want to study in the United States or Canada! Let us know where you want to go in the comments below!
---
---
May 10th, 2014 by Jennifer Frankel
With studying abroad being such an increasingly popular decision in today's world, international students may be surprised to learn that there are only a few universities in the United States where international students make up more than 15% of the student population.
Studying abroad used to be just a great way to enrich a course of study, gain some global perspective, and have an interesting life experience while attending university. Now, studying abroad offers a number of academic and economic advantages to students (and the universities that host them). As such, countries the world over are increasingly encouraging their students to study abroad and international student populations are on the rise on campuses across the globe. However, international students may be surprised to learn that there are only a handful of universities in the US with international student populations over 15%
US Colleges with the Highest International Student Populations (Undergraduate)
Recent findings indicate that each of the above schools has further expanded its international student enrollment. Moreover, as studying abroad transitions from "enriching undergraduate experience" to "extremely prudent academic and career move" the number of international students is likely to continually increase over the next few years.
Universities that already have significant populations of international students, resource and support networks for international students and school cultures that accept and admit the perspectives of international students will continue to stand out and benefit from their diverse student bodies. Moreover, as those students who do decide to study abroad decide on potential institutions, knowing there's already a thriving international student body may make the transition that much easier.
---
May 2nd, 2014 by Jennifer Frankel
Public universities in the US state of South Dakota have started looking into paying foreign recruiting companies and agents in order to help draw international students to their campuses.
According to the chief academic officer for the state Board of Regents, Sam Gingerich, there are a number of reasons for the state's desire to attract a growing population of international students and why going through foreign or international recruiting companies is a great way to do so.
Why is South Dakota Paying to Recruit International Students?
Sociocultural Benefit
The Midwestern US tends to be more culturally homogeneous than life on the east or west coasts and, as such, integrating students from other cultures and bringing a global perspective to student life provides a much needed exposure to global society.
Financial Benefit
In recent years, both graduating class size and the rate of graduation in South Dakota high schools has decreased. Therefore, an increased number of students from other areas (students paying the out-of-state tuition costs, no less) presents a financial boon to both the institutions at which the international students will study, as well as the cities in which they will live and spend while present.
Why Use International Recruiters? 
US colleges and universities are allowed to use foreign student recruitment agencies
There are a number of steps an organization must go through in order to be verified as a legitimate entity with which to do business—and it is this somewhat costly step that has traditionally limited the use of foreign recruiters as a means to attract undergraduates.
What Does it Mean for International Students?
International students in countries like China and India stand to benefit tremendously from the shift to utilizing foreign recruiters. In those countries, student recruitment agencies are the norm—helping parents navigate through thousands of universities (many in other countries) and their relative merits, application procedures, costs, etc.
With universities in the US tapping into this resource, international students in countries where recruitment agencies are the norm ought to begin to see some very competitive incentives from American institutions that were previously either unavailable or unknown to them!
---
February 25th, 2013 by Jonathan Frankel

As international students prepare to head to college inside the US, one of the decisions they will have to make is whether or not to enroll in a school meal plan. It's not as simple as deciding how much you'd like to eat! Choosing a meal plan at your school will depend on a lot of different factors.

What Are Meal Plans?

A school meal plan can come in two basic forms: a plan that will allot a certain amount of meals and a plan that will allot a certain amount of money. A meal plan at your school with limited meals has the advantage of being cheaper, but is usually limited to your school's cafeteria-style offerings and not specialty restaurants (including fast-food locations on campus). Meal plans that charge money from an account can generally be used at any restaurant on campus (and sometimes even at on-campus stores and off-campus restaurants), but you will need to keep close track of your budget so you don't run out and wind up paying for food out of pocket!

When do I Need a Meal Plan?

Getting a meal plan at your school is almost always a good choice if you fit a certain few criteria. First, a school meal plan will be most useful if you live on or very near campus, allowing you to make it to participating cafeterias/restaurants regularly and get the full benefit of your school's meal plan. Second, look at the lifestyle you'll be living in the coming school year. Will you be in a tiny dorm room with just a microwave and mini-fridge? Will you be so busy that cooking your own food is out of the question? If getting a meal plan at your school would positively complement your lifestyle for the semester it can be a great option.

When Don't I Need a Meal Plan?

If you have specific dietary restrictions, contact your school to find out if any of their participating options available are acceptable to you. Many larger schools will work to accommodate a variety of dietary choices, but if you don't think you would be happy with what your school offers then skip the meal plan and prepare your own meals. Also, if you're far away from campus and unable to fully benefit from a meal plan or if you would simply rather prepare your own food, a meal plan certainly isn't a necessity!

A school meal plan can be a great way to make life easier and to manage your budget. Look into what your school offers and get ready to eat!
---
June 22nd, 2011 by admin

One of the most important parts of international education is figuring our what you can afford.  Can you attend that high-priced private school in an expensive city?  Or is a more affordable option required?  You can get basically the same education in an area with a lower cost of living, or attend a state school or community college.  You can work, get loans and apply for scholarships.  But until you know how much money you will need, its hard to figure out how you're going to get it.

Creating an overall budget is a critical part of affording your study overseas.  Truly, there are options for people regardless of what your overall budget is, but you have to know the budget to know your options.  The Study USA section of InternationalStudent.com has a good article on creating a budget.  Also review these earlier posts on this blog on Estimated vs. Actual School Budget and Evaluating School Program costs .

With a little effort, you can have a much better handle on where your money will be going, and what schools and programs you can afford.

Subscribe to our blog for an update when the next post comes out.
---
June 14th, 2011 by admin

One positive by-product of a relatively weak ecomony is the continuing low interest rates for international student loans for study in the USA. Interest rates for loan programs offered by International Student Loan range from 2.25% APR to 9.11% APR with no origination fees. When you consider that there is no collateral required for a student loan, unlike a home or car loan, it is impressive that student loan programs can operate at such rates. Since student loans are often based on LIBOR, a low LIBOR is certainly helping the situation.

Lenders offered through the loan center on InternationalStudent.com also offer excellent rates, and you can compare and contrast them.  A quick search today showed current APRs beginning at 3.16%.

Private student loans are available for international students studying at approved schools in the United States.  All international students need a US co-signer.  The interest rate for each student is set by the loan underwriter based largely on the credit score and income history of the US co-signer, so a stronger co-signer can mean a lower rate. You can apply for up to the total cost of education, minus other aid received.

Check both options to figure out which works best for you and your school:

http://www.internationalstudentloan.com
http://www.internationalstudent.com/loans/

Subscribe to the International Financial Aid Blog to get an update for each new post.
---
February 4th, 2011 by admin

Rotary clubs around the world are a great source of scholarships for international study, and for any student trying to study abroad, Rotary Clubs should be top on the list to research any relevant scholarships. For instance, Rotary Clubs in the State of Georgia (USA) have sponsored the Georgia Rotary Student Program since 1946.

The GRSP brings in 80 international students per year for one full academic year, and pays their tuition, book allowance, meal allowance and on-campus room, at a college or university in the State of Georgia, USA. To be eligible, you must be between 18 and 25 and be an undergraduate student in your home country, and have never studied in the USA. In addition, you must be recommended by your home Rotary Club. Visit the Georgia Rotary Student Program website to learn more about their international scholarships.

Also, you can read a good story about Benjamin Ikaal from Kenya, who is a Rotary scholarship recipient studying at Valdosta State University in Valdosta, Georgia.

Subscribe to our blog to get an update when the next post comes out.
---
January 25th, 2011 by admin

Students from China, Taiwan and Hong Kong are in very high demand at US colleges and universities, leading Hobsons to host a virtual student fair specifically for these students.  If you are from one of these countries, register now for the Greater China Virtual Student Fair to be held March 12, 2011.  At the fair, you will be able to video conference or chat live with admissions representatives from over 60 schools; download school information; and learn about the admissions process from schools you may be interested in.  Best of all, its free, and you can do all of this from home, or from anywhere that you have an internet connection.

Register today, and put March 12 on your calendar – all attendees are entered to win $5,000 in prizes!
---