---
September 8th, 2018 by Juncal

The 2018 InternationalStudent.com Travel Video Contest
Deadline: October 9th
The InternationalStudent.com Travel Video Contest is back and is open for entries until October 9th! If you are planning to become an international student or if you are already one, this contest is a great opportunity for you! Keep reading to get all the details about the InternationalStudent.com Travel Video Contest!
What is it about?
You will need to create and submit an original video before the deadline to be considered for a $4,000 grand prize. One lucky winner will receive the grand prize and their very own blog on InternationalStudent.com. There will also be a second place, third place and a viewers' choice winner. The grand prize winner will be announced on November 16th.
To be eligible you must be 18 or older and already enrolled or planning to enroll in college or university outside of your home country. If you are currently studying outside of your home country, your video must describe any trip you would like to take. If you are not currently studying outside of your home country, your entry must describe your proposed study abroad.
Your video must be created specifically for the current InternationalStudent.com Travel Video Contest with a maximum length of 4 minutes.
Make sure you read the full list of rules and regulations before you enter. You would also want to check the tips & tricks section and view the past winners, as well as see who will be judging your video.
Get more information on how to enter the 2018 Travel Video Contest!
---
July 6th, 2018 by Juncal

Westbon
Deadline: October, 15
Westbon is the first lending platform for international students in the U.S. Based in Chicago, they specialize in providing auto loans and personal loans for their customers, who have always been an underserved group due to their lack of a Social Security Number (SSN) and credit history.
Westbon is dedicated to assisting international students in their pursuit to study in the United States and is always amazed by how vibrant and talented the international student community is.
To help international students further pursue their dreams in the U.S., Westbon has established a scholarship program for international students who are on F1 Visa in the United States. Regardless of your fields of study, Westbon is happy to offer the assistance you need for your college studies in the United States.
Eligibility
To qualify, you must be:
International students on F1 Visa with valid I20

Undergrad, master students all welcomed to apply

All nationalities and majors are welcomed to apply

Minimum GPA 2.70 out of 4.00 or equivalent

Online application form

L20 & Transcript

Supporting documents if necessary
What are they looking for?
Applicants who have the excellent achievement and great potential in academic, extracurricular activities or social fields.
Academic
Applicants who excel in their study with demonstrated academic performance.

Please provide your most recent transcript. Supporting documents like recommendation letters from your professors or supervisors are recommended but not required.
Adventurous/ Creative
Enthusiastic travelers who have seen and witnessed the true beauty of the world.

Talented artists and designers who have an amazing, stunning portfolio.

Adventurers who have an amazing story to tell.

It all depends on your experience and endeavors.
Social Impact/ Leadership/ Entrepreneurship
Candidates who have entrepreneurship spirit, a significant social impact, or the ability to influence others in a positive way.

Candidates who have shown leadership in extracurricular activities or won recognition within the international student organization and communities.
All undergraduate and master program students are welcome to apply. You can find further details here.
---
May 24th, 2018 by Juncal

Trendhim Aps
Deadline: November 1st
The Trendhim Scholarship was created to empower and support the future of ecommerce superstars, and each year Trendhim Aps supports one or more students by providing them with €2.000.
The Scholarship was founded to cover costs associated with ecommerce education or projects, which can cover travel expenses, conference fees, meals, or school attendance.
Eligibility
To be eligible to apply, you can be from anywhere in the world and be any age. You also must be studying one of the fields below:
Fashion

Marketing

IT

Sales

Organizational Design
PhD students can also apply for the Scholarship. It is expected that the person(s) receiving the support subsequently offers a brief description of the results accomplished or abilities obtained with the help of the scholarship.
How to Enter
In order to be considered, your education or project for which you're seeking funds should be related to ecommerce.
You are expected to submit a proposal in which you clearly explain what the funds will cover, along with a budget. Name, address, and telephone number must be included. Then, submit your proposal to csr@trendhim.com.
Get more details on this scholarship and how to apply here.
---
December 14th, 2017 by Juncal
University of Sussex Scholarship
Deadline: March 10th
Have you ever dreamt about spending a summer in England? Dream no more! The University of Sussex offers you the opportunity to experience a life-changing summer in its International Summer School!
The International Summer School at the University of Sussex provides an opportunity to meet and study with people from all over the world and is now offering a 50% scholarship to spend next summer on its campus! The International Summer School program lasts for 4 weeks, just enough time to have an immersive cultural experience! And it gets even better as the program also includes social activities such as Harry Potter tours, karaoke nights and pub quizzes.
How to apply?
The Sussex teaching system is based around intensive, small-group teaching through lectures, workshops and labs. Each module carries 15 credits and lasts for four weeks and the start date for Module A is from June 23 and for Module B from July 22.
To apply, just follow these three steps:
Complete the

Sqore challenge

.

Decide which ISS module works best for you.

Apply online to the

International Summer School

.
Do you want to know more about the school and city? The University of Sussex was founded in 1961 and is located in Brighton, England, which has been known as "London by the Sea." Brighton quickly established an international reputation for the quality of its research, for its innovative and effective styles of teaching, and for attracting scholars from all over the world. Brighton is an amazing place to be a student as you will enjoy the sun and the sea. It also has great places to eat and drink, many shops and any other entertainment activity you can find in any other big city. Are you excited now? Get more details on the International Summer School scholarship and apply before March 10th!
---
November 22nd, 2017 by Juncal
If you've been wondering what happened with the InternaionalStudent Video Contest, the wait is over! InternationalStudent has just revealed who the lucky final winners are. Like every year, the quality, creativity and originality of the videos surprised the judges and although it was not an easy decision, the three final winners were selected.
The $4,000 Grand Prize Winner: Dini Restyanti  with "Finding My Ikigai"
Dini displays her great talent for animation through this video!  Her skills have impressed us all and we are sure that she soon will find her "Ikigai", which in Japanese means: "a reason to wake up in the morning".Congratulations, Dini!
Second Place Winner: Laura Reyes with "Drawing My Trip"
Laura has always dreamed of becoming a recognized producer. She creates and displays the emotions of people through her work. In order to achieve this, a great deal of effort is involved, but to become a master in her field, Laura believes she needs the best possible education and must move to Los Angeles!
Third Place Winner: Eliel Freer-Sullivan with "New York, New York, My American Dream"
Eliel is a great Brazilian composer and singer who decided to tell us his story with a song that not only shows us that he is a brilliant composer, but also that he has an incredible voice!
Congratulations to the final winners who more than deserved these awards! Feeling like you missed out? Not to worry! Remember that the contest takes place every year, so it's never too soon to gear up for our next contest!
---
October 18th, 2017 by Juncal

East Tennessee State University

Deadline: January 2nd
If you are a new international student at East Tennessee State University (ETSU) or if you are planning to apply to ETSU, we have great news for you! The International Students Academic Merit Scholarship is open to new international students seeking a graduate or undergraduate degree.
What is it about?
The scholarship covers 50 percent of total in and out-of-state tuition and maintenance fees only. No additional fees or costs are covered (recipients will be required to pay other fees such as program fees, course fees, housing costs, and medical insurance costs).
Students must apply for admission to ETSU before applying for the scholarship. Once an admissions application is submitted, the student may then apply for the scholarship. A student's scholarship application will be reviewed once the student is admitted to the university.
The scholarship is available for:
Eight semesters for undergraduate recipients

Five semesters for recipients seeking a master's degree, or commensurate with the length of the program

Eight semesters for doctoral students, or commensurate with the length of the program

Scholarship can be used for summer semesters if taking on-grounds courses

Scholarship may not be used for the winter term
To be eligible, students must:
Apply for admission to ETSU before they can apply for the scholarship

Have or plan to have an F-1 or J-1 student visa

Have a record of academic achievement

Fill out the scholarship application form
Also important to know:
Recipients must maintain full-time status.

An applicant must have a 3.0 GPA (high school, or college GPA, depending on if freshman, transfer, or graduate applicant).

Undergraduate recipients must maintain a 2.75 semester grade point average in order to continue receiving the scholarship. Graduate recipients must maintain a 3.0 semester GPA.

Recipients continuing from a bachelor's to a master's degree program must reapply for the scholarship.
Time is running out so if you are interested, be sure to submit all your information by January 2nd. Applications received after the deadline will not be reviewed. You can find further details here.
---
September 11th, 2014 by Bryanna Davis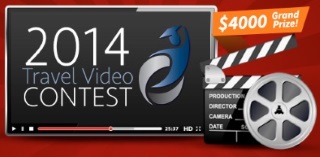 The 2014 InternationalStudent.com Travel Video Contest
Deadline: October 22nd
For the ninth year InternationalStudent.com is hosting their Travel Video Contest! Not only is this one of the more fun scholarship opportunities- it can really boost your bank account if you win! Although there will be great runner-up prizes and a viewer's choice award, one lucky grand prize winner will receive $4,000 for their studies abroad.
Who is eligible?
This contest is open to those who are 18 and older and who are enrolled or plan on being enrolled in a college or university outside their home country. The winner will receive their very own blog on InternationalStudent.com- so you must be willing and able to contribute at least once a week to the blog while preparing for and on your trip.
How do you enter?
Create a video in five minutes or less on why you want to study abroad and where you want to go. One key item to keep in mind when creating your video: be creative! Keep the InternationalStudent.com judges entertained to make it into the final round of winning videos. How you keep them entertained is up to you, but here are a few tips and tricks to get you started! Make sure you enter your video and entry form before the deadline of October 22nd to be eligible to enter this contest.
Sign into your account then get more information on the 2014 InternationalStudent.com Travel Video Contest here. Follow the link to the InternationalStudent.com contest page for all of the official rules and regulations and to see the past winning videos. Keep in mind the judges want to see original videos- but checking out past winners is a good place to start.
The winner of this contest will be announced in November during International Education week. Make sure you stay connected during that week! Not only will it be announced on the InternationalStudent.com site and social media, but if you are one of the lucky winners you'll be notified through email and telephone.
---
July 2nd, 2014 by Bryanna Davis
Financial Aid Fun Contest: Question 1
Deadline: July 9th at 3pm EST
International Student Loan and International Student have combined forces during the month of July to bring you three great chances to win $100! Yesterday the Financial Aid Fun contest was announced and today question 1 of the Financial Aid Fun Contest released! All you need to do is find the correct answer to the question (you can find help here), then post the correct answer either to this blog or one of the following:
International Student Facebook
International Student Twitter
International Student Loan Facebook
International Student Loan Twitter
If you submit the correct answer you'll be entered into the drawing to win $100! You only have until July 9th at 3pm EST to submit your answer, so make sure you post your answer as soon as possible!
The question you must correctly answer is:
What is a co-signer?
Time is limited so start searching now and post your answer before the deadline. If you aren't the winner this week make sure you come back next week. There will be a new question posted, meaning a new chance to win $100!
WINNER UPDATE:
If you missed the announcement of the winner for the first question- here he is:
Islam Taher
"A cosigner is someone who guarantees that if the borrower cannot pay back the loan, they will be legally responsible to pay back the debt. In other words, the cosigner is taking on a huge responsibility for the international student loan or study abroad loan since they are being asked to accept the responsibility of paying back the total loan amount plus any interest."
Congrats Islam! For those who did not win, don't worry, just answer our next question for a chance to win!
---
June 23rd, 2014 by Jennifer Frankel
As the United States continues to admit an increasing number of international students to US schools, international students are faced with deciding where, in such a large country, they will be able to make the most of their study abroad experience.
Immediately thoughts of famous US cities spring to mind—New York, Chicago, Los Angeles, Miami, etc. However, there are a number of reasons why international students might want to consider studying in a smaller US town.
Studying Abroad in Smaller US Towns VS Larger US Cities Read the rest of this entry »
---
February 20th, 2014 by Jennifer Frankel
As many countries actively pursue an increase in international student enrollment, often facilitating such an endeavor with financial incentives and assistance, Singapore appears to be bucking the trend. Instead, Singapore has been reducing the number of international students receiving tuition grants and restricting the number of international students allowed to study at universities in the country.
Capped Aid
Since 2010 the number of international students receiving tuition grants in Singapore has decreased over 30%.
In private and polytechnic universities, around nine percent of international students received tuition grants to study in Singapore in 2010, where less than six percent did so in 2013.
In publicly-funded universities the current figure is 13 percent, down from 18 percent in 2010.
Moreover, this is in a country already famous for capping the number of international students enrolled in its country's higher education system.
Capped Numbers
An announcement several years ago by Singaporean Education Minister Heng Swee Keat had indicated that Singapore would be pursuing a strategy to limit the number of international students enrolled in its higher education system.
The cap on the number of international students is intended to reduce the percentage of international students below 15% of the student body while advancing opportunities for Singapore nationals.
To that end, an additional 2,000 student positions were created and made available exclusively to students from Singapore at the same time the number of international students positions had been capped at 2011 levels.
So, if you happen to be an international student interested in studying abroad in Singapore (home to a university that has consistently been ranked around the 24th best in the world, and a highly developed economy) it would be in your best interest to act quick! Moreover, given the cut in tuition grants and funding available to international students in Singapore, searching through scholarship databases and finding alternate sources of funding would be your absolute best move (in the event you don't happen to be one of the lucky 13%).
---