December 27th, 2011 by Jennifer Frankel

As more students decide to study overseas, financial aid plays a critical role for many students looking to make this a reality. Financial aid comes in many forms, including scholarships, grants, and loans. For many international students, even with the assistance of scholarships and grants, there is still a need to secure additional financing by taking out a loan.

Many international students have had difficulty finding lenders that will loan to international students. Some lenders require students to be a US citizen or permanent resident and all lenders work with specific school (and these lists of approved schools vary by lender). Because of this, many international students have to read through the terms and conditions or complete the application to see whether they meet the eligibility requirements for each lender.

This has all changed thanks to International Student Loan's new loan comparison tool. This loan comparison tool takes all of this information into consideration to match international students with the right loan options instantly. International students simply indicate their school, citizenship, and whether they have a cosigner, and they will be given a list of lenders to compare that have been matched based on their eligibility. Once international students have chosen their loan, they can proceed to the application and apply for the loan directly.

International Student Loan's Comparison Tool is making financial aid easier for students to study overseas, saving  time and providing students with option to make studying abroad a possibility. For any questions on how this works, you can contact representatives at International Student Loan.
---
December 12th, 2011 by Jennifer Frankel

Funding for international students is a critical factor for any student looking to receive a degree or certification overseas. Think about it. Housing, food, tuition, and books are just a few of the necessary expenses students will need to consider when they budget for their education.

One way students reduce their costs is by applying for scholarships and grants. While many students hope for a full scholarship supported by their college or university, this can be a challenge. In fact, only 23% of international students in the US cover the majority of their expenses with assistance from their college or university. This is the largest external source of funding for international students (excluding self and family funding) – see the graph below that reflects funding for foreign students in the US.

The Institute of International Education publishes an annual report monitoring data on international students in the US called the Open Doors Report. This publication, released last month, confirmed that funding remained consistent over last year with relatively minor fluctuations. What does this means? In the 2010-2011 academic year 63% percent of international students primary funding for international students was by personal and family funds.

Here are some important tips for students looking to budget responsibly:

1. Know the cost of your education.

The initial budgeting stage for your education overseas is to know what expenses you can expect. You should be aware of costs that include your tuition, books, living expenses, etc. The Net Price Calculator can be a useful addition to develop an accurate budget.

Since October 29, 2011, in compliance with the Higher Education Opportunity Act of 2008, those colleges and universities who participate in Title IV federal student aid programs are required to estimate the cost of attendance for current and prospective students seeking a degree and/or certificate. The idea of the Net Price Calculator is to provide students with transparency on the cost of their education as well as any grants/scholarship awards they typically distribute to students. This tool will outline tuition and associated fees, books and supplies, room and board, personal expenses, transportation, grant aid, etc. Keep in mind that the tool was developed for US students so results may vary for international students, however this can be a good start!

2. Apply for scholarships and grants.

It is important for international students to apply for scholarships and grants to reduce their personal expenses. Be aware of programs, dates, and eligibility requirements, and add them to your calendar to stay on top of those awards that are distributed by your school. Funding for international students can also be found through your home country as well as non-profit organizations or third parties. You can use resources like International Education Financial Aid (IEFA) and International Scholarships to begin researching your overseas funding.

3. For additional financial assistance, you may need to apply for an international student loan.

Once you have maximized your scholarships and grants, you may consider looking for a loan for international students. If you have a US co-signer, you may be eligible for a US-backed loan that can help you support your education overseas. Be sure to read through the terms and conditions before you apply.

Student loans can assist you in supporting the many costs that you may incur as an international student. Keep in mind, however, that this aid is expected to be paid back along with interest. While funding for international students can vary, this may be a helpful alternative for students looking for financial assistance from a US bank.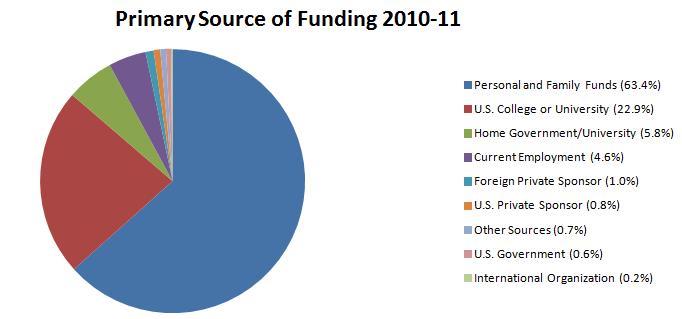 Data for graph was extracted from the Open Doors Report as noted above.
---
June 14th, 2011 by admin

One positive by-product of a relatively weak ecomony is the continuing low interest rates for international student loans for study in the USA. Interest rates for loan programs offered by International Student Loan range from 2.25% APR to 9.11% APR with no origination fees. When you consider that there is no collateral required for a student loan, unlike a home or car loan, it is impressive that student loan programs can operate at such rates. Since student loans are often based on LIBOR, a low LIBOR is certainly helping the situation.

Lenders offered through the loan center on InternationalStudent.com also offer excellent rates, and you can compare and contrast them.  A quick search today showed current APRs beginning at 3.16%.

Private student loans are available for international students studying at approved schools in the United States.  All international students need a US co-signer.  The interest rate for each student is set by the loan underwriter based largely on the credit score and income history of the US co-signer, so a stronger co-signer can mean a lower rate. You can apply for up to the total cost of education, minus other aid received.

Check both options to figure out which works best for you and your school:

http://www.internationalstudentloan.com
http://www.internationalstudent.com/loans/

Subscribe to the International Financial Aid Blog to get an update for each new post.
---
January 6th, 2011 by admin

Student loans are available for international students studying at approved schools in the United States.  There are multiple loan programs available – today we will highlight the main two. International students are not eligible for US federal loans, for which you need to be a US citizen or permanent resident. However, the following two private loan programs are an excellent resource for non-US citizens:

InternationalStudentLoan.com – International Student Loan is the main online resource for school loans for international students, and has been for years. Currently, International Student Loan offers loans up to the total cost of education, as determined by your school, minus any other aid received. These loans are school certified (as all student loans are now), meaning your school financial aid office must certify the final amount of the loan to ensure that you are not borrowing more than you need. And the kicker – the school determines how much you need, based on their total cost of education minus any other aid you receive.  The approved school list is quite long, meaning most US schools are approved for loans. With this loan program, interest payments are required while you are in school, with full repayment beginning 6 months after separation from school.

http://www.InternationalStudentLoan.com

InternationalStudent.com –  InternationalStudent.com is the primary portal site for international education, and on its loan page it features a loan comparison tool with multiple lenders.  The school list is even longer, and you can find loans on the comparison tool that do not require any interest repayment while in school.

http://www.internationalstudent.com/loans/

Check them both to figure out which is the best financing option for you.

Subscribe to the International Financial Aid Blog to get an update for each new post.
---
May 14th, 2010 by admin

International Student Loan has re-launched its website, with a new loan matching system, improved navigation and an updated design.  International students will now be matched to an appropriate loan product much more quickly, simplifying product selection and application.

Instead of requiring a student to navigate through the site to the appropriate loan product, now students can use the simple form to quickly find out if they are eligible to apply for a loan, and if so, what loan is appropriate. The new system will also allow International Student Loan to work more easily with multiple lenders, making sure that they can keep up with the rapidly changing market and deliver the best loan products to students.

The new site also has a cool new look – wider, with more images and a more current look. The content has been updated and added to, so students can get the information they need quickly.

For international students studying in the USA, and for US students studying overseas, the financing options are more limited than for domestic study.  Through International Student Loan, students can apply for up to the total cost of education, minus any other aid received.  A US co-signer is required for all international students and most US students.

Check out the new site: http://www.InternationalStudentLoan.com

About InternationalStudentLoan.com: InternationalStudentLoan.com is owned and operated by Envisage International Corporation and headquartered in Neptune Beach, Florida. As a NAFSA Global Partner and with an A+ Reliability Rating from the Better Business Bureau, InternationalStudentLoan.com has been helping students from all over the world achieve their goals of international education since 1998, and has become the leading destination for international education financing.

Click here to subscribe to our blog and get an update when the next post comes out.
---
April 27th, 2010 by admin

This story from the online Daily O'Collegian, the Oklahoma State University newspaper, does a nice job of touching on most funding options open to international students in the US, and some of the hurdles they face.

If $40,000 does not come into Khanh Lu's bursar account soon to pay for her OSU tuition, her dream of becoming an aerospace engineer will soon end. Lu, like many of the 16,000 international students at OSU, came to the United States expecting the American dream that she had seen on television back home in Vietnam. But if her family does not have the money to show they can pay her next year at OSU when she needs to enroll, she may have to go home a little sooner than she expected.

"It is difficult for me to concentrate on my studies sometimes because I worry about the financial burden I am putting on my family," Lu, an aerospace engineering junior, said.

Click to read the rest of the story in the Daily O'Collegian.
---
March 5th, 2010 by admin

Each year, the Institute of International Education publishes the Open Doors Report, packed full of information about international students in the US, US students abroad and trends in international education.

One of the tables I check out each year is the Primary Source of Funds table. This shows the primary source of education funding for international students in the US, and it really has not changed much over the past five years. The online table is great, and shows that most international students at US colleges and universities still must rely on their own funds to pay for their education — like family funds, loans and savings.

But the printed report is even better, as it breaks the data down by academic level. IIE just released the full printed 2009 Open Doors Report, and the data shows that the overwhelming majority (81.9%) of international undergraduates in the US are self-funded, while less than half (48.8%) of international graduate students cite personal and family funds as their primary source of funding.

The next set of numbers shows how those graduate students are funding their education – with help from their school. 43.3% of international graduates receive their primary funding from their US College or University, while the number is only 9.1% for undergraduates.

Here's the full data table from the 2009 Open Doors Report showing the primary source of funds for international undergraduate and graduate students in the US:
| | | |
| --- | --- | --- |
| Primary Source of Funds | % undergraduate | % graduate |
| | | |
| Personal & Family | 81.9 | 48.8 |
| U.S. College or University | 9.1 | 43.3 |
| Home Government/University | 3.9 | 3.1 |
| U.S. Government | 0.3 | 0.8 |
| U.S. Private Sponsor | 1.4 | 0.9 |
| Foreign Private Sponsor | 2.1 | 1 |
| International Organization | 0.1 | 0.3 |
| Current Employment | 0.2 | 1 |
| Other Sources | 1 | 0.8 |
| | | |
| Total | 100 | 100 |
Graduate students are much more likely to receive financial assistance from their school, often in the form of assistantships, research grants, etc., whereas very few undergraduates receive any form of aid from their school. This information is quite helpful as you set expectations about how to pay for an international education. There are scholarships for undergraduates, but far fewer than the financing opportunities available to graduate students.
Click here to subscribe to our blog and get an update when the next post comes out.
---
January 5th, 2010 by admin

As we did last year, we would like to provide a quick update as we start 2010 for international students looking to finance an education in the US. We begin 2010 in a much more settled position that we did 2009, with loans available, but still with constraints to education financing as a fallout from the worldwide economic turmoil over the past two years.

Although many lenders have gone out of business or canceled their international student loans, and private loans in general have been cut back dramatically, International Student Loan has loans available to international students in the US. These loan programs require a co-signer with excellent credit, and require "school certification." Visit International Student Loan and click the Apply Now button to begin your online application.

There are no longer any direct-to-consumer, non-school certified private student loans available to anyone. These DTC loans – ones that did not need to be certified by your school, and therefore could process very quickly and let you borrow more than the total amount that your school permits – were very popular with international and US students. But because of perceived and actual abuse, DTC student loans are gone and may not come back any time soon.

For international students, the basics of sound education financing become even more important. Those basics haven't changed:

1. Be very realistic about your budgeting and financial needs, and choosing a college that is within your budget. Visit these two posts to see more on being realistic about your choice of college and setting an accurate school budget.

2. Consider a community college for the first two years of your education. Visit this post to learn how international students save money at community colleges.

3. Get as much in scholarships as you can. Start with your school, your government, and look online on sites like International Education Financial Aid.

4. If you need loans, check with International Student Loan and your school about the availability of a loan program for you.

Best of luck as we begin 2010. From an international education financing perspective, things are much better than last year, but we still have a long way to go to make an international education affordable to anyone with the initiative to pursue one!

Click here to subscribe to our blog and get an update when the next post comes out.
---