---
November 15th, 2018 by Juncal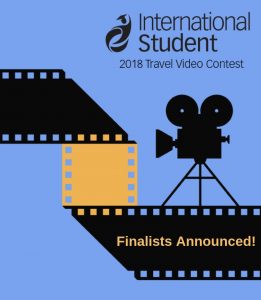 In late August InternationalStudent.com invited you to participate in their annual Travel Video Contest where students can create a 4 minute or less video describing their proposed study abroad, or any trip they would like to take if already studying abroad. After receiving numerous entries with emotional and inspiring videos, InternationalStudent.com has announced who the lucky finalists are, including the Viewers' Choice Winner.
We encourage you to watch their amazing videos and listen to their unique stories- perhaps one of your favorites was nominated within the 12 finalists! To choose the three final winners, InternationalStudent.com has a Judging Panel comprised of leaders in international education.
As well as watching the 12 finalist videos, we encourage you to check out the Viewers' Choice winning video: Leaving Routine Behind, created by Kaleema Lowery, who is actually participating for her second time in this contest! Winning the Viewers' Choice Award means she not only will receive $1,000, but also gains automatic entry into the finalist round. Check out Kaleema's video and let her tell you her story through her moving video, where she shares her desire to visit and live in South Korea in order to leave the routine behind.
Stay tuned as the 3 winners will be announced during the last day of the International Education Week: November 16th! If you're interested in entering this Travel Video Contest next year make sure you sign up to receive the latest alerts from InternationalStudent.com.
---