---
December 12th, 2011 by Jennifer Frankel

Funding for international students is a critical factor for any student looking to receive a degree or certification overseas. Think about it. Housing, food, tuition, and books are just a few of the necessary expenses students will need to consider when they budget for their education.

One way students reduce their costs is by applying for scholarships and grants. While many students hope for a full scholarship supported by their college or university, this can be a challenge. In fact, only 23% of international students in the US cover the majority of their expenses with assistance from their college or university. This is the largest external source of funding for international students (excluding self and family funding) – see the graph below that reflects funding for foreign students in the US.

The Institute of International Education publishes an annual report monitoring data on international students in the US called the Open Doors Report. This publication, released last month, confirmed that funding remained consistent over last year with relatively minor fluctuations. What does this means? In the 2010-2011 academic year 63% percent of international students primary funding for international students was by personal and family funds.

Here are some important tips for students looking to budget responsibly:

1. Know the cost of your education.

The initial budgeting stage for your education overseas is to know what expenses you can expect. You should be aware of costs that include your tuition, books, living expenses, etc. The Net Price Calculator can be a useful addition to develop an accurate budget.

Since October 29, 2011, in compliance with the Higher Education Opportunity Act of 2008, those colleges and universities who participate in Title IV federal student aid programs are required to estimate the cost of attendance for current and prospective students seeking a degree and/or certificate. The idea of the Net Price Calculator is to provide students with transparency on the cost of their education as well as any grants/scholarship awards they typically distribute to students. This tool will outline tuition and associated fees, books and supplies, room and board, personal expenses, transportation, grant aid, etc. Keep in mind that the tool was developed for US students so results may vary for international students, however this can be a good start!

2. Apply for scholarships and grants.

It is important for international students to apply for scholarships and grants to reduce their personal expenses. Be aware of programs, dates, and eligibility requirements, and add them to your calendar to stay on top of those awards that are distributed by your school. Funding for international students can also be found through your home country as well as non-profit organizations or third parties. You can use resources like International Education Financial Aid (IEFA) and International Scholarships to begin researching your overseas funding.

3. For additional financial assistance, you may need to apply for an international student loan.

Once you have maximized your scholarships and grants, you may consider looking for a loan for international students. If you have a US co-signer, you may be eligible for a US-backed loan that can help you support your education overseas. Be sure to read through the terms and conditions before you apply.

Student loans can assist you in supporting the many costs that you may incur as an international student. Keep in mind, however, that this aid is expected to be paid back along with interest. While funding for international students can vary, this may be a helpful alternative for students looking for financial assistance from a US bank.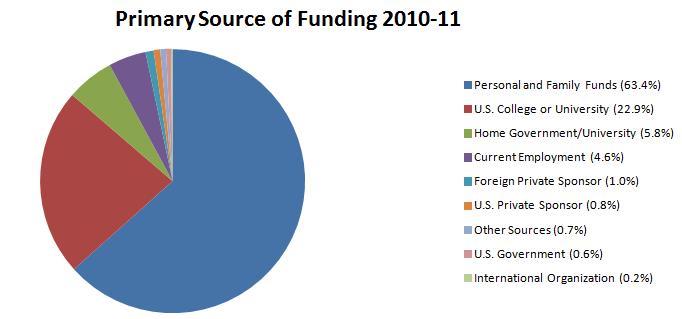 Data for graph was extracted from the Open Doors Report as noted above.
Find a scholarship for international students in Canada.
---