---
February 27th, 2012 by Jennifer Frankel

Are you planning to study in the US? If so, you'll find the latest study by the U.S. News & World Report to be of particular interest. This report evaluated the financial assistance packages that US colleges provided their international undergraduate students. After reviewing the 776 US colleges that provide financial aid to international students, the top 10 colleges were narrowed down and ranked.

Interestingly, the top 10 colleges offering financial aid to international students averaged $47,469. While it is important to note that this is not the norm, as many of the 776 schools offered a few hundred dollars to its students coming from overseas, this information can be helpful for students budgeting and planning to study in the US.

For many international students, the financial aid packages may just be the final determination of whether the student will go abroad for their undergraduate degree. Especially as tuition continually increases and the economic downfall has widespread consequences, students are more than ever depending on help from their college or university.

Below is the final report of the top colleges offering financial aid to international students along with the average award package given in 2010-2011:

1. Yale University, Connecticut – $51,044

2. Wesleyan University, Connecticut  – $50,743

3. Skidmore College, New York – $50,000

4. Amherst College, Massachusetts – $49,010

5. Trinity College, Connecticut – $48,999

6. Gettysburg College, Pennsylvania – $48,908

7. University of Chicago, Illinois – $48,436

8. Williams College, Massachusetts – $47,713

9. Vassar College, New York – $47,623
---
February 20th, 2012 by Jennifer Frankel

If anyone ever thought that tuition fees do not effect enrollment, a new study recently released showed otherwise. www.YourNextLeap.com conducted a survey that showed that Indian students are choosing more affordable schools – many of which are public universities.

Tuition costs are on the rise in the United States, especially as the US government continues to reduce federal funding. As tuition increases, and the Indian Rupee depreciates against the US dollar, more Indian students are balancing cost and their preference for top universities. As students balance these two important decisions, many students are applying to schools that offer a good balance of both.

According to this survey of 1,000 students, the findings indicated that 43% of Indian students preferred public universities in 2011-2012 which increased to 62% for the upcoming semester. This same study found that cost is a major consideration for international students where students applied to universities with the following cost structure:
| | |
| --- | --- |
|  Tuition Fee Annually | Percent of Indian Student Applicants |
| Below $15,000 | 17% |
| $15,000 – $20,000 | 40% |
| $20,000 – $25,000 | 16% |
| $25,000 – $30,000 | 27% |
To compare costs, according to College Board a public four-year college charges on average $12,526 for tuition and fees for out-of-state students annually whereas a private nonprofit four-year college charges $28,500 each year.
This comes as an important indicator for schools looking to attract and grow their international student body. In 2011, India was the second largest sending country of international students after China, sending 103,895 students to the United States (14% of the total international student body).
---
February 16th, 2012 by Jennifer Frankel

In the past, many international students came to the United States looking to study at a handful of well-known, prestigious universities and colleges throughout the nation. As the number of international students continues to grow and the price tag among these elite schools is also increasing, many international students are considering other alternatives.

Tech schools, also known as vocational schools, are designed to train students on specific skills such as computer technology or health care. Instead of a traditional University, the emphasis of a tech school is to prepare students for jobs by giving students skills directly related to their employment. Many international students are turning to technical schools to get their US education – and at a greatly reduced price!

Why, you might ask? First of all, many of these tech schools offer more affordable tuition and most degree programs can be completed quicker than a traditional college. With a growing demand for international students, tech schools are combining these offerings with scholarships to further reduce the price for students. Let's look at Tennessee Tech who in one year grew from 53 (in Spring 2011) to 188 (in Spring 2012) international students. According to Amy Miller, Tennessee Tech study abroad coordinator, one reason for this increase is that students are getting different types of scholarships, including funding from their home country's government.

And financing isn't just the end of it; tech schools aren't stopping there either. In addition to their degree program, tech schools are now introducing English language centers to help students improve English fluency before beginning their coursework. Texas Tech, for example, plans to open an ELS Language Center this June to help expand their reach globally. While there are no scholarships for ELS students at Texas Tech, they are looking into the possibility of extending scholarships to the English learning process as well.
---
December 27th, 2011 by Jennifer Frankel

As more students decide to study overseas, financial aid plays a critical role for many students looking to make this a reality. Financial aid comes in many forms, including scholarships, grants, and loans. For many international students, even with the assistance of scholarships and grants, there is still a need to secure additional financing by taking out a loan.

Many international students have had difficulty finding lenders that will loan to international students. Some lenders require students to be a US citizen or permanent resident and all lenders work with specific school (and these lists of approved schools vary by lender). Because of this, many international students have to read through the terms and conditions or complete the application to see whether they meet the eligibility requirements for each lender.

This has all changed thanks to International Student Loan's new loan comparison tool. This loan comparison tool takes all of this information into consideration to match international students with the right loan options instantly. International students simply indicate their school, citizenship, and whether they have a cosigner, and they will be given a list of lenders to compare that have been matched based on their eligibility. Once international students have chosen their loan, they can proceed to the application and apply for the loan directly.

International Student Loan's Comparison Tool is making financial aid easier for students to study overseas, saving  time and providing students with option to make studying abroad a possibility. For any questions on how this works, you can contact representatives at International Student Loan.
---
December 22nd, 2011 by Jennifer Frankel

Did you ever want to know what the total cost of your education would be as an international student studying in the US? Are you trying to budget properly so that you make smart financial decisions? Curious about the price difference between schools? Now, the US Department of Education is making it easier for you to determine the cost of your education. It's called, the Net Price Calculator.

So you may be asking yourself, what is the net price calculator? Thanks to the Higher Education Opportunity Act of 2008, the Net Price Calculator was introduced to increase the transparency of how much a student must pay or borrow to enroll. Previously, the cost of education was not all that clear. Adding up all of the costs, like books and living expenses, was difficult to measure.

That's where the net price calculator comes in. By entering in your personal information, like income, residency, assets, among other details, you can determine approximately what the cost will be to enroll. Tuition and fees, room and board, books and personal expenses, as well as scholarships and grants, are all clearly laid out for you to evaluate on many college and university websites.

Keep in mind, however, that tool has been designed for US students attending US schools so there may be variations in the prices for international students. At the same time, many schools have taken the tool one step further and have adjusted rates for international students. The net price calculator was formally implemented across the United States on October 29, 2011.

While some people are asking what is the net price calculator, others are looking for ways to improve it. Currently, the tool only provides the annual cost so don't be fooled. If you are going for a four year degree, make sure to multiply the number by 4.

So, if you are an international student, make sure you know what is the net price calculator – and even more importantly, how to use it!
---
December 12th, 2011 by Jennifer Frankel

Funding for international students is a critical factor for any student looking to receive a degree or certification overseas. Think about it. Housing, food, tuition, and books are just a few of the necessary expenses students will need to consider when they budget for their education.

One way students reduce their costs is by applying for scholarships and grants. While many students hope for a full scholarship supported by their college or university, this can be a challenge. In fact, only 23% of international students in the US cover the majority of their expenses with assistance from their college or university. This is the largest external source of funding for international students (excluding self and family funding) – see the graph below that reflects funding for foreign students in the US.

The Institute of International Education publishes an annual report monitoring data on international students in the US called the Open Doors Report. This publication, released last month, confirmed that funding remained consistent over last year with relatively minor fluctuations. What does this means? In the 2010-2011 academic year 63% percent of international students primary funding for international students was by personal and family funds.

Here are some important tips for students looking to budget responsibly:

1. Know the cost of your education.

The initial budgeting stage for your education overseas is to know what expenses you can expect. You should be aware of costs that include your tuition, books, living expenses, etc. The Net Price Calculator can be a useful addition to develop an accurate budget.

Since October 29, 2011, in compliance with the Higher Education Opportunity Act of 2008, those colleges and universities who participate in Title IV federal student aid programs are required to estimate the cost of attendance for current and prospective students seeking a degree and/or certificate. The idea of the Net Price Calculator is to provide students with transparency on the cost of their education as well as any grants/scholarship awards they typically distribute to students. This tool will outline tuition and associated fees, books and supplies, room and board, personal expenses, transportation, grant aid, etc. Keep in mind that the tool was developed for US students so results may vary for international students, however this can be a good start!

2. Apply for scholarships and grants.

It is important for international students to apply for scholarships and grants to reduce their personal expenses. Be aware of programs, dates, and eligibility requirements, and add them to your calendar to stay on top of those awards that are distributed by your school. Funding for international students can also be found through your home country as well as non-profit organizations or third parties. You can use resources like International Education Financial Aid (IEFA) and International Scholarships to begin researching your overseas funding.

3. For additional financial assistance, you may need to apply for an international student loan.

Once you have maximized your scholarships and grants, you may consider looking for a loan for international students. If you have a US co-signer, you may be eligible for a US-backed loan that can help you support your education overseas. Be sure to read through the terms and conditions before you apply.

Student loans can assist you in supporting the many costs that you may incur as an international student. Keep in mind, however, that this aid is expected to be paid back along with interest. While funding for international students can vary, this may be a helpful alternative for students looking for financial assistance from a US bank.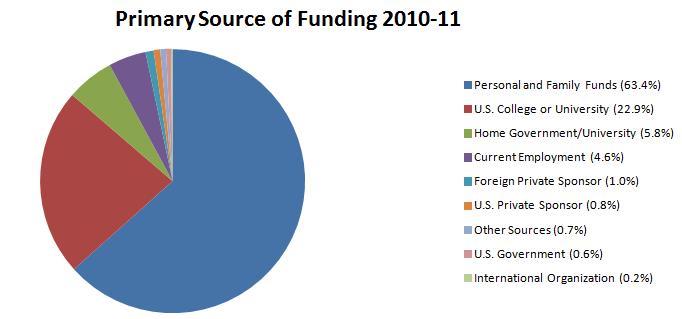 Data for graph was extracted from the Open Doors Report as noted above.
---
April 29th, 2011 by Keith Clausen

The bad news: Rates for students from the UK, attending UK universities, are going to go up.  The good news:  rates for international students attending UK universities are not going up.

"Although the tuitions will be raised in universities and colleges in the United Kingdom, it will not affect the international students," O'Nions told Xinhuanet on the sideline of the Global Summit of University Presidents 2011 (GSUP) held in Tsinghua University.

Read the rest of the story in the People's Daily Online:

http://english.peopledaily.com.cn/

Subscribe to our blog to get an update when the next post comes out.
---
February 24th, 2011 by Keith Clausen

Hult International Business School is a highly regarded business education institution, offering MBA, Masters and Undergraduate programs in five locations around the globe: Boston; San Francisco; Dubai; London; and Shanghai. Hult was ranked the 27th best business education in the world, and the 17th best business education in the U.S. by the Economist Intelligence Unit. The Financial Times has also recognized it as one of the Top 100 business schools worldwide.

Hult offers a very popular one-year MBA program, which allows you to study at up to three of their five worldwide locations. Finishing in one year instead of two, as required by most MBAs, can be a very efficient way to improve your career opportunities faster, saving you money on the way.

Hult also offers scholarships to deserving, accomplished students.  See Hult's profile page on International Scholarships to see more about their scholarship offer for students from Africa:

http://www.internationalscholarships.com/

Subscribe to our blog to get an update when the next post comes out.
---
January 19th, 2011 by Keith Clausen

Ramapo College of New Jersey is a public, liberal arts college, founded in 1969 and rated by Kiplingers in 2010 as one of the "100 Best Values in Public Colleges."  With 5,660 students, including several hundred international students, Ramapo offers degrees in the arts, business, the humanities, the social sciences, and the sciences, as well as in professional studies programs such as nursing, social work and Teacher Education.

Scholarships available to international students include the Presidential Scholarship and the Provost Scholarship:

Presidential Scholarship (Full tuition waiver for four years): To be considered for the Presidential Scholarship, an international student must be in the top 10 percent of their high school class with SAT scores of at least 1300 in Critical Reading and Mathematics.    For more information, visit:  http://www.InternationalScholarships.com/Ramapo Presidential

Provost Scholarship ($10,000 per year for four years):  To be considered for the Provost Scholarship, an international student must be in the top 10 percent of their high school class with SAT scores of at least 1230 in Critical Reading and Mathematics.  For more information, visit:  http://www.InternationalScholarships.com/Ramapo Provost

To get an update when the next post comes out, subscribe to our blog.
---
May 27th, 2010 by Keith Clausen

A recent article in The Daily 49er, the online newspaper for Cal State Long Beach, explores how the poor economy impacts international students, amid drastic cuts in California public education, a weak job market and rising tuition costs. Cal State Long Beach attracts students from around the world. Here is an excerpt from the article:

"The down economy, cuts to the university's budget and fee increases have affected students on many levels. Job-seeking international students have not been immune.

Last summer, the state reduced the 2009-2010 California State University budget by $571 million. Cal State Long Beach's share of the cut was $44 million. Faculty and staff
furloughs were implemented, about 1,000 classes were cancelled, and tuition jumped by 30 percent from the 2008-2009 price. Nonresident student fees also increased.

"When you have an economic situation where money is really tight, you're going to see a reduction in opportunities for everyone," Inemesit Williams, study abroad adviser for the
Center for International Education (CIE), said. "On top of that, when at the same time you have in increase in fees, students are going to scramble to find ways to cover these new
costs."

Last fall, there were 1,236 international students on campus. That is about 3.5 percent of the nearly 35,000-student population. They come from more than 40 countries from Australia, to Brazil and Zambia, with more than half from East or Southeast Asia. International students have either an F-1 student visa or a J-1 Exchange Visitor visa.  Under U.S. law, these visas allow them to work on campus, or off campus in a field related to their studies for a set time during school and after graduation.

Those who aspire to work for several years need a company to sponsor their application for an H-1B Temporary Worker visa. As the U.S. Department of Labor defines it: "The H-1B
program allows an employer to temporarily employ a foreign worker in the U.S. on a nonimmigrant basis in a specialty occupation or as a fashion model of distinguished merit and ability."

The spike in unemployment over the past year and a half in Southern California has  increased the stakes for international students who want to land a long-term job. The
seasonally adjusted unemployment rate for Los Angeles County was 12.4 percent in March, up from 7.9 percent in August 2008.

The Career Development Center (CDC) on campus has hosted workshops targeting international students. These include seminars on finding an internship and writing an American-style résumé. CDC Counselor Wayne Tokunaga stressed the importance of doing all one can to be marketable.

"If your experience is the exact same as a U.S. citizen's, they don't have to sponsor a U.S. citizen for H1B," Tokunaga said. "They'll just go with a U.S. citizen because it's
easier."

To read the rest of the article, click here.

Click here to subscribe to our blog.
---