---
April 30th, 2012 by Jennifer Frankel

It's that time of year when students have received acceptance letters from their colleges and universities. Once they've narrowed down their schools and confirmed admissions, the next step is to apply for a F-1 international student visa to get government authorization to study in the US.

If you are one of these students, then it is important to know about the proof of funds requirement that you'll be asked when you visit your local US embassy. All prospective foreign students are required to demonstrate that they have the financial capability to support him or herself while studying in the US. This includes covering tuition and fees, living expenses, and any dependents – without working during your studies.

To meet the Proof of Funds requirement for your F-1 visa, you will either need to present proof of funds for yourself, or do so through a sponsorship (such as a relative financially backing your education). It is important that you check directly with the consulate as this may vary by country and agency, but here are some general considerations and documents you should bring during your visit.

Proof of liquid assets. The consulate will want to see that you are able to cover your education and living expenses. While there are generally no specific documents that prove this, there are some commonly used documents that help support proof of funds including:
Original tax returns from the last three years (Form 16)
Three years of bank records and/or fixed deposit statements of your sponsor (which can also be your parent)
Pay slips, employment letters
Chartered accountant statements
Scholarships (which should be indicated on your I-20)
Property documents
The US government is concerned more with liquid assets such as savings accounts and checking accounts since they want to ensure that you have easy access to these funds. Investments with fluctuating values and property deeds are not generally recommended as proof of funds. The embassy is looking to see that you have immediate funds to cover the first year costs of your education, and that you'll have access to funds for the following years needed to complete your degree.
Additionally, it is important that all of your documents are original, in English (or an official translation attached), and official. Your bank documents should be on bank letterhead with the name of the account holder, account number, and the total amount of funds indicated on the forms.
Sponsorship. If you are planning to study in the US but do not have sufficient funds, you can have a sponsor support you instead. Many international students have a sponsor, such as a family member, to help cover their educational expenses. Sponsors can be located inside or outside the US:
If the student is sponsored by a US citizen, they would need to complete the I-134 Affidavit of Support Form that requires the sponsor to cover any expenses that the student cannot afford.
If the student is sponsored with funds outside the US, then the embassy would check to see if there are any fund transfer restrictions from the specified country. If there are any restrictions, the student must be equipped with evidence that the student will be able to access these funds during the period of study.
The final determination of sufficient proof of funds is determined by the consulate or embassy. Even if you provide these documents they can still deny the student visa. Be sure to check with your school and consulate to make sure you have all the proper forms necessary when arriving for your F-1 student visa interview.
---
April 2nd, 2012 by Jennifer Frankel

In one of our most recent blogs, Top Paying Undergraduate Majors, we looked at which undergraduate majors yielded the highest income long-term and for new hires. In the current employment environment, however, it has been difficult for many students to find a job post graduation. You may have heard on the news in the US – or around the world – that youth unemployment is particularly high. In Spain, for example, 49% of young people under 25 were unemployed at the end of 2011. In Italy, that number was 49% and in the United States that number was approximately 20%.

According to the most recent hiring statistics, the hardest hit demographic to find a job after graduating is international students who have visa restrictions on employment. Degree-seeking international students typically come to the US under a F-1 international student visa which allow students to work under "Optional Practical Training" status up to one year.

If a company wants to hire an international student long-term, the employer will need to apply for a H1B work visa which allows individuals to work for three years and they can renew the visa for another three years. Because students must be working in a field related to their studies, there are top majors that are likely to get you hired compared to others. This sponsorship process requires students to be highly competitive in their industry with skills that standout among other applicants. Furthermore, this process can be quite expensive for employers so typically larger companies, such as banks and consulting firms, are able to hire and support international students.

With visa restrictions and high unemployment, there is recent data that ties your major to your ability to get hired. According to the Wall Street Journal's Best College Major to Career, your major has a direct impact on your employability. Here are the top 10 lowest unemployment rates based on major:
| | |
| --- | --- |
| Undergraduate Major | Unemployment Percent |
| Actuarial Science | 0.0% |
| Pharmacology | 0.0% |
| Educational Administration and Supervision | 0.0% |
| School Student Counseling | 0.0% |
| Geological and Geophysical Engineering | 0.0% |
| Astronomy and Astrophysics | 0.0% |
| Teacher Education | 1.1% |
| Agricultural Economics | 1.3% |
| Medical Technologies Technicians | 1.4% |
| Atmospheric Sciences and Meteorology | 1.6% |
We have also took the majors with the highest income in our previous blog and ranked them according to the lowest unemployment rates:
| | |
| --- | --- |
| Undergraduate Major | Unemployment Percentage |
| Environmental Engineering | 2.2% |
| Aerospace Engineering | 3.6% |
| Chemical Engineering | 3.8% |
| Mechanical Engineering (ME) | 3.8% |
| Applied Mathematics | 4.1% |
| Nuclear Engineering | 4.1% |
| Management Information Systems (MIS) | 4.2% |
| Petroleum Engineering | 4.4% |
| Physics | 4.5% |
| Civil Engineering (CE) | 4.9% |
| Electrical Engineering (EE) | 5.0% |
| Mathematics | 5.0% |
| Computer Science (CS) | 5.6% |
| Industrial Engineering (IE) | 5.6% |
| Biomedical Engineering (BME) | 5.9% |
| Economics | 6.3% |
| Statistics | 6.9% |
| Computer Engineering (CE) | 7.0% |
| Materials Science & Engineering | 7.7% |
While there are top majors that are likely to get you hired, there are other factors that can influence your employment as an international student. Being at the right place at the right time as well as networking and your relationships can make it easier for you to find a job upon graduation.
Many colleges and universities offer resources, like a Career Center, that can give you the right tools and exposure to secure a job in the United States. While this process can be difficult, it is important to think long-term and consider your major, involvement, networking, and internship decisions if you are considering job prospects in the US.
---
March 26th, 2012 by Jennifer Frankel

As we previously reported, the cost of education has been on the rise for some time now. Especially as US state budgets are cut, colleges and universities are shifting their expenses to the student. Many students – be it US citizens or international students – are looking for ways to finance their education from scholarships to grants to loans. But you may wonder if your education is worth the cost.

While this question has to be individually evaluated and answered, a good starting point is to look at the expected income based on your major (which is your specialization in college or at a university). The path you select will train you in a specific field, which will ultimately determine your job prospects, and thus, your salary.

Not surprisingly, 13 out of the top 20 highest paying positions – whether looking at starting pay or mid-career pay – is engineering. Below is a graph outlining the top paying undergraduate majors in the US:
Looking at these results, it is no wonder why the second most popular field for international students is engineering followed by math and computer science (which ranked third) and then physical and life sciences (which ranked fourth). In fact, it is clear from the data that top paying undergraduate majors that prove more technical in nature are compensated accordingly. Below is a table that reflect the true figures from the graph above:
| | | |
| --- | --- | --- |
| | Starting Median Pay* | Mid-Career Median Pay* |
| Petroleum Engineering | $97,900 | $155,000 |
| Chemical Engineering | $64,500 | $109,000 |
| Electrical Engineering (EE) | $61,300 | $103,000 |
| Materials Science & Engineering | $60,400 | $103,000 |
| Aerospace Engineering | $60,700 | $102,000 |
| Computer Engineering (CE) | $61,800 | $101,000 |
| Physics | $49,800 | $101,000 |
| Applied Mathematics | $52,600 | $98,600 |
| Computer Science (CS) | $56,600 | $97,900 |
| Nuclear Engineering | $65,100 | $97,800 |
| Biomedical Engineering (BME) | $53,800 | $97,800 |
| Economics | $47,300 | $94,700 |
| Mechanical Engineering (ME) | $58,400 | $94,500 |
| Statistics | $49,000 | $93,800 |
| Industrial Engineering (IE) | $57,400 | $93,100 |
| Civil Engineering (CE) | $53,100 | $90,200 |
| Mathematics | $47,000 | $89,900 |
| Environmental Engineering | $51,700 | $88,600 |
| Management Information Systems (MIS) | $51,000 | $88,200 |
| Software Engineering | $54,900 | $87,800 |
*All data was collected from PayScale Salary Survey for full-time employees in the United States who possess a Bachelor's degree (and no further degree) in order to determine which were the top paying undergraduate majors.
---
March 12th, 2012 by Jennifer Frankel

College costs are on the rise and are showing no signs of wavering. Economists predict that by 2015 state college costs may be as high as $120,000. US and international students are feeling the effects more so than ever as tuition is increasing at a faster rate than inflation. Since 1986, inflation has increased 115.06% whereas tuition has increased 498.31%.

So, what does this mean for you?

First, to understand, let's discuss inflation. Inflation is the rate in which the price for goods/services rise but the purchasing power falls. For example, the price for a hamburger cost 15 cents back in 1955, but now the cost is $3.22 for that same burger. You are still getting a burger, but your money is worth less now. So, to put it in context, the higher inflation, the less your money buys.

Currently, tuition is increasing at twice the rate of inflation – meaning that you will need more money to get the same education – and the trend shows no indication of changing. Below is a graph that shows the increase in tuition and fees since 1986 (data collected from College Board):
You will notice that the rate has been steadily on the rise, with the largest increase coming from private nonprofit four-year colleges and universities. These rising costs can be attributed to a number of factors, including a decrease in state funding, increased costs to attract professors, and investment in facilities to create a competitive educational environment.
According to the latest data published by Bloomberg, tuition jumped 8.3% over last year doubling inflation. The increase in tuition is causing a new problem – student debt. Last year, according to the Milwaukee Journal Sentinel, the average student graduated with $27,000 in debt – quite an increase from just $5,000 back in 1982. If you adjust for inflation, then the debt amount would be $12,000 in real terms (less than half the current student debt amount!)
As tuition continues to increase, students will now need to think about their earning potential upon graduation, as well as alternative methods to help fund your education. Maximizing scholarships and grants is the first step in reducing your debt. By thinking smart, consider your career path and earning potential, look for ways to keep your finances low, and seek alternative methods to get additional funding to support your education.
---
February 27th, 2012 by Jennifer Frankel

Are you planning to study in the US? If so, you'll find the latest study by the U.S. News & World Report to be of particular interest. This report evaluated the financial assistance packages that US colleges provided their international undergraduate students. After reviewing the 776 US colleges that provide financial aid to international students, the top 10 colleges were narrowed down and ranked.

Interestingly, the top 10 colleges offering financial aid to international students averaged $47,469. While it is important to note that this is not the norm, as many of the 776 schools offered a few hundred dollars to its students coming from overseas, this information can be helpful for students budgeting and planning to study in the US.

For many international students, the financial aid packages may just be the final determination of whether the student will go abroad for their undergraduate degree. Especially as tuition continually increases and the economic downfall has widespread consequences, students are more than ever depending on help from their college or university.

Below is the final report of the top colleges offering financial aid to international students along with the average award package given in 2010-2011:

1. Yale University, Connecticut – $51,044

2. Wesleyan University, Connecticut  – $50,743

3. Skidmore College, New York – $50,000

4. Amherst College, Massachusetts – $49,010

5. Trinity College, Connecticut – $48,999

6. Gettysburg College, Pennsylvania – $48,908

7. University of Chicago, Illinois – $48,436

8. Williams College, Massachusetts – $47,713

9. Vassar College, New York – $47,623
---
February 20th, 2012 by Jennifer Frankel

If anyone ever thought that tuition fees do not effect enrollment, a new study recently released showed otherwise. www.YourNextLeap.com conducted a survey that showed that Indian students are choosing more affordable schools – many of which are public universities.

Tuition costs are on the rise in the United States, especially as the US government continues to reduce federal funding. As tuition increases, and the Indian Rupee depreciates against the US dollar, more Indian students are balancing cost and their preference for top universities. As students balance these two important decisions, many students are applying to schools that offer a good balance of both.

According to this survey of 1,000 students, the findings indicated that 43% of Indian students preferred public universities in 2011-2012 which increased to 62% for the upcoming semester. This same study found that cost is a major consideration for international students where students applied to universities with the following cost structure:
| | |
| --- | --- |
|  Tuition Fee Annually | Percent of Indian Student Applicants |
| Below $15,000 | 17% |
| $15,000 – $20,000 | 40% |
| $20,000 – $25,000 | 16% |
| $25,000 – $30,000 | 27% |
To compare costs, according to College Board a public four-year college charges on average $12,526 for tuition and fees for out-of-state students annually whereas a private nonprofit four-year college charges $28,500 each year.
This comes as an important indicator for schools looking to attract and grow their international student body. In 2011, India was the second largest sending country of international students after China, sending 103,895 students to the United States (14% of the total international student body).
---
February 16th, 2012 by Jennifer Frankel

In the past, many international students came to the United States looking to study at a handful of well-known, prestigious universities and colleges throughout the nation. As the number of international students continues to grow and the price tag among these elite schools is also increasing, many international students are considering other alternatives.

Tech schools, also known as vocational schools, are designed to train students on specific skills such as computer technology or health care. Instead of a traditional University, the emphasis of a tech school is to prepare students for jobs by giving students skills directly related to their employment. Many international students are turning to technical schools to get their US education – and at a greatly reduced price!

Why, you might ask? First of all, many of these tech schools offer more affordable tuition and most degree programs can be completed quicker than a traditional college. With a growing demand for international students, tech schools are combining these offerings with scholarships to further reduce the price for students. Let's look at Tennessee Tech who in one year grew from 53 (in Spring 2011) to 188 (in Spring 2012) international students. According to Amy Miller, Tennessee Tech study abroad coordinator, one reason for this increase is that students are getting different types of scholarships, including funding from their home country's government.

And financing isn't just the end of it; tech schools aren't stopping there either. In addition to their degree program, tech schools are now introducing English language centers to help students improve English fluency before beginning their coursework. Texas Tech, for example, plans to open an ELS Language Center this June to help expand their reach globally. While there are no scholarships for ELS students at Texas Tech, they are looking into the possibility of extending scholarships to the English learning process as well.
---
December 27th, 2011 by Jennifer Frankel

As more students decide to study overseas, financial aid plays a critical role for many students looking to make this a reality. Financial aid comes in many forms, including scholarships, grants, and loans. For many international students, even with the assistance of scholarships and grants, there is still a need to secure additional financing by taking out a loan.

Many international students have had difficulty finding lenders that will loan to international students. Some lenders require students to be a US citizen or permanent resident and all lenders work with specific school (and these lists of approved schools vary by lender). Because of this, many international students have to read through the terms and conditions or complete the application to see whether they meet the eligibility requirements for each lender.

This has all changed thanks to International Student Loan's new loan comparison tool. This loan comparison tool takes all of this information into consideration to match international students with the right loan options instantly. International students simply indicate their school, citizenship, and whether they have a cosigner, and they will be given a list of lenders to compare that have been matched based on their eligibility. Once international students have chosen their loan, they can proceed to the application and apply for the loan directly.

International Student Loan's Comparison Tool is making financial aid easier for students to study overseas, saving  time and providing students with option to make studying abroad a possibility. For any questions on how this works, you can contact representatives at International Student Loan.
---
December 22nd, 2011 by Jennifer Frankel

Did you ever want to know what the total cost of your education would be as an international student studying in the US? Are you trying to budget properly so that you make smart financial decisions? Curious about the price difference between schools? Now, the US Department of Education is making it easier for you to determine the cost of your education. It's called, the Net Price Calculator.

So you may be asking yourself, what is the net price calculator? Thanks to the Higher Education Opportunity Act of 2008, the Net Price Calculator was introduced to increase the transparency of how much a student must pay or borrow to enroll. Previously, the cost of education was not all that clear. Adding up all of the costs, like books and living expenses, was difficult to measure.

That's where the net price calculator comes in. By entering in your personal information, like income, residency, assets, among other details, you can determine approximately what the cost will be to enroll. Tuition and fees, room and board, books and personal expenses, as well as scholarships and grants, are all clearly laid out for you to evaluate on many college and university websites.

Keep in mind, however, that tool has been designed for US students attending US schools so there may be variations in the prices for international students. At the same time, many schools have taken the tool one step further and have adjusted rates for international students. The net price calculator was formally implemented across the United States on October 29, 2011.

While some people are asking what is the net price calculator, others are looking for ways to improve it. Currently, the tool only provides the annual cost so don't be fooled. If you are going for a four year degree, make sure to multiply the number by 4.

So, if you are an international student, make sure you know what is the net price calculator – and even more importantly, how to use it!
---
December 12th, 2011 by Jennifer Frankel

Funding for international students is a critical factor for any student looking to receive a degree or certification overseas. Think about it. Housing, food, tuition, and books are just a few of the necessary expenses students will need to consider when they budget for their education.

One way students reduce their costs is by applying for scholarships and grants. While many students hope for a full scholarship supported by their college or university, this can be a challenge. In fact, only 23% of international students in the US cover the majority of their expenses with assistance from their college or university. This is the largest external source of funding for international students (excluding self and family funding) – see the graph below that reflects funding for foreign students in the US.

The Institute of International Education publishes an annual report monitoring data on international students in the US called the Open Doors Report. This publication, released last month, confirmed that funding remained consistent over last year with relatively minor fluctuations. What does this means? In the 2010-2011 academic year 63% percent of international students primary funding for international students was by personal and family funds.

Here are some important tips for students looking to budget responsibly:

1. Know the cost of your education.

The initial budgeting stage for your education overseas is to know what expenses you can expect. You should be aware of costs that include your tuition, books, living expenses, etc. The Net Price Calculator can be a useful addition to develop an accurate budget.

Since October 29, 2011, in compliance with the Higher Education Opportunity Act of 2008, those colleges and universities who participate in Title IV federal student aid programs are required to estimate the cost of attendance for current and prospective students seeking a degree and/or certificate. The idea of the Net Price Calculator is to provide students with transparency on the cost of their education as well as any grants/scholarship awards they typically distribute to students. This tool will outline tuition and associated fees, books and supplies, room and board, personal expenses, transportation, grant aid, etc. Keep in mind that the tool was developed for US students so results may vary for international students, however this can be a good start!

2. Apply for scholarships and grants.

It is important for international students to apply for scholarships and grants to reduce their personal expenses. Be aware of programs, dates, and eligibility requirements, and add them to your calendar to stay on top of those awards that are distributed by your school. Funding for international students can also be found through your home country as well as non-profit organizations or third parties. You can use resources like International Education Financial Aid (IEFA) and International Scholarships to begin researching your overseas funding.

3. For additional financial assistance, you may need to apply for an international student loan.

Once you have maximized your scholarships and grants, you may consider looking for a loan for international students. If you have a US co-signer, you may be eligible for a US-backed loan that can help you support your education overseas. Be sure to read through the terms and conditions before you apply.

Student loans can assist you in supporting the many costs that you may incur as an international student. Keep in mind, however, that this aid is expected to be paid back along with interest. While funding for international students can vary, this may be a helpful alternative for students looking for financial assistance from a US bank.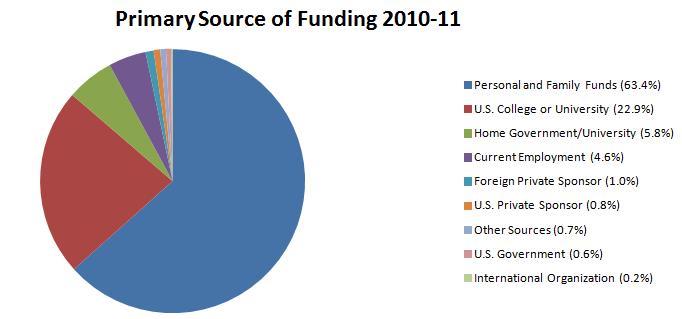 Data for graph was extracted from the Open Doors Report as noted above.
---